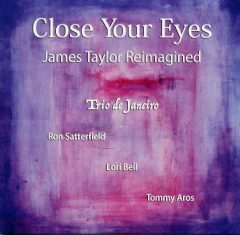 San Diego (by way of Brooklyn) flute virtuoso Lori Bell has been collaborating with singer/guitarist Ron Satterfield and percussionist Tommy Aros for many years under the aegis of Trio de Janeiro. They've developed a truly unique sonic signature that belies their rather sparse instrumentation: it's not easy to get such a full sound without a bass or keyboards, but these three manage to do so seamlessly.
This latest album is a true feature for Satterfield, whose warm-honeyed tenor voice is a dead sonic doppelganger for the one and only James Taylor. Satterfield rearranged and reharmonized nine of Taylor's tunes and the results are often stunning.
The album kicks off with "Don't Let Me Be Lonely Tonight," Satterfield's bluesy guitar ostinato over the subtle congas of Aros. While he croons, Bell weaves in and out with supple improvisation.
I dig the slinky bass/chord vamp that powers Satterfield's version of "Gorilla," upon which he maximizes the inherent wit of Taylor's dry lyrical narrative. You don't notice the lack of a proper bass instrument because of Satterfield's skill with the guitar and at the end, Bell's solo finds her soaring, swooping, and growling like a hungry panther.
The title track is a justifiable highlight. Satterfield exploits some devastating finger-style guitar work and if you dig James Taylor, you will definitely love this adaptation. Once again, Bell brings up the rear with a timely and concise improvisation.
"Mudslide Slim" is another gem, one where Satterfield brings out the best in one of Taylor's lesser-known pieces by highlighting the laconic delivery with an emphasis on clarity and phrasing.
Some of the radical re-toolings of the Taylor canon work better than others. "Fire and Rain," the first big Taylor hit from the 1970 blockbuster Sweet Baby James is perhaps too iconic to wear a new set of stylistic clothes. I got a similar feeling from Satterfield's rearrangement of "Shower the People," which seemed to rush by too quickly to really enjoy the emotional message.
Irrespective of those caveats. Close Your Eyes ends on a clear winner, the Satterfield-arranged version of Taylor's "Secret of Life," which fires effectively on all cylinders. The singer's vocal is full of everything you could ask for, capturing a wistful wisdom of an author who has been ravaged by the vicissitudes of life while keeping it all in perspective. Bell wraps it all up with a remarkably sweet solo to close.