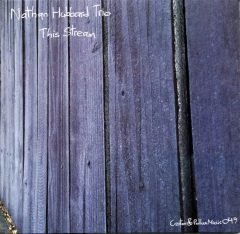 Nathan Hubbard and his trio have performed around San Diego for years, with dates at Dizzy's, Panama 66, and other music venues. Finally making it into the studio, Hubbard wrote up eight new compositions for himself and the band.
The resulting studio performances have the solidity of a well-grounded trio; yet the sound is fresh, the new material spurring on the spontaneity and musical communication of the three musicians. The disk, This Stream, wound up being one of the most intriguing and satisfying recordings that I have run across this past year.
I try to keep up as best I can on the music and musicians here in San Diego, but I have to confess that until this recording I've been unfamiliar with guitarist Kevin Jones. I appreciate his playing here, at once restive then effusive. The mix has the guitar right up front. Jones also adds reverb and there is some distortion, which give the guitar even more presence. Bassist Harley Magsino is deft in working the relationship between the drums and guitar, lending a lot of life to the ensemble. On this disk it is Hubbard who is the mercurial factor. His drumming is at once sensitive and spare; then the next thing you know, the dude is just wailing.
This is most certainly jazz. But some of what I heard gave me the impression of krautrock, particularly on "Purple Cactus Flower" and "We Get the Heroes We Deserve," selections on which Hubbard plays the vibraphone. My guess is that these guys may have pulled out and played a couple Kraan LPs from their parents' vinyl collection while they were growing up.
The compositions are less of what you might think of as tunes or melodies and are perhaps what might be called musical ideas: riffs or lines off of which the musicians solo and interact. Hubbard sets aside a little over a minute and a half of the disk for "Rarely Down the Rabbit Hole," a solo piece for drums. Hubbard can play with knife-edge precision, but here, as elsewhere on the disk, he plays it loose. My favorite selection on the disk is "The Shadow Over the Moon," which is expansive, melancholy, exuberant, mysterious, powerful, and just the perfect vehicle for this trio.
Hubbard has put photographs of southern California native plants on his CD covers, so I'd like to thank him for the picture of the Cylindropuntia prolifera on This Stream. The disk has a little over 30 minutes of music, just past the point at which I start giving out demerits for being too short.
I've written about the individual members of this ensemble, but the real star of this recording is the trio itself. The level of co-creating in forming and executing musical ideas that this trio achieves is some of the best that you're likely to hear. This band is a great ensemble, and this recording is proof of it.