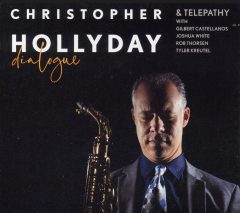 I'm old enough to remember when alto saxophone virtuoso Christopher Hollyday swirled into the jazz public consciousness in the early 1980s—mentioned in the same breath in Downbeat magazine as Wynton Marsalis and Roy Hargrove. Hollyday had been burning up stages in hometown Boston-area gigs for years before his 21st birthday, and he secured a major label contract with the RCA/Novus imprint when he was barely out of high school.
After four well-regarded albums, Hollyday went back to school to pursue a career as an educator and dropped out of sight from the spotlight of the mainstream jazz world. He ended up teaching high school music in San Diego, slowly emerging through regular appearances with Gilbert Castellanos at weekly jam sessions until, at last, in 2018, he was ready to record again with a top-notch group including Castellanos on trumpet, Joshua White on piano, Rob Thorsen on bass, and Tyler Kreutel on drums.
Now he is back with the same crew and it is clear that he has even more to say. Dialogue is the eagerly awaited follow-up to Telepathy, and the world is starting to take notice, once again, to Christopher Hollyday.
After a fanfare-like introduction, the title track literally explodes into an episode of absolutely burning bebop. You can feel the joy in every note emanating from Hollyday's horn—and in the clarion call of Castellanos—he has found an equal and a perfect foil. Pianist Joshua White consistently elevates the bandstand every time he touches the keyboard and the rhythm tandem of Thorsen and Kreutel are as solid as bedrock.
On his "comeback" record, Telepathy, Hollyday stuck to standards and bebop classics; on Dialogue, he contributes three original Hollyday compositions, including the catchy melody "Text Tones," which leans on a superlative Joshua White foundation, upon which Castellanos layers breathtaking lyricism and the leader dominates with exuberant kinetic energy.
That energy is pervasive throughout the album, whether it is the swinging ebullience of "You Make Me Feel So Young," where everyone contributes to the melody, or the Art Blakey-ish shuffle of "Paid Time Off," or the stunning tambourine solo at the center of "Pau de Arara," a Brazilian folk-melody adapted by Lalo Schiffren for Dizzy Gillespie.
However, the true test for an improviser lies in the skill with which they approach a ballad, and on "Dedicated to You," Hollyday slows way down and embodies both the art of the ballad and the lonely struggle of being human in truly beautiful fashion.