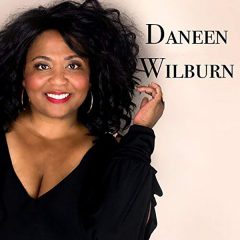 If you've never heard of San Diego vocalist Daneen Wilburn, do not despair: this amazing singer essentially dropped off the pop music radar un the 1990s in order to raise a family, although she continued to sing in her local church.
To get an idea of what the music world has been missing "after all this time," just imagine someone with a set of pipes comparable to Aretha Franklin, Mavis Staples, or Etta James. At the urging of mega-producer Kamau Kenyatta, Wilburn finally self-released her debut album last year, and it's a stunning document, one that shouldn't be missed by anyone who loves great singing.
The album opens forcefully with the title track and the listener is immediately transported back to the glory days of 1970s soul/jazz/funk via the amazing attention to detail provided by producer Kenyatta. Above the extremely tight band he assembled, Wilburn's amazing voice soars.
Trumpeter Curtis Taylor's muted trumpet wafts gently in the ears as the lockstep groove of bassist Nathan Brown, guitarist Gregory (GMoe) Moore, and drummer Richard Sellers, sets a canvas for Wilburn to craft her sultry voice on a funkified version of Antonio Carlos Jobim's "Quiet Nights," with Kenyatta guiding subtly from the keyboard.
Wilburn's brothers Mica (organ) and Joel (guitar) join her on the wonderful gospel-oriented "I'll Be Free," which reminded me a lot of the Staples Singers, particularly in the "I'll Take You There" era. Wilburn's single, "Strong Love," has been tearing up the smooth jazz charts for the last few months, and it's easy to see why: it's simply pop music at its beat, with a bone-chilling vocal and a wonderful balance of instrumental prowess and little details like the background vocals, which include Wilburn's daughter's Jordan and Whitley alongside Damion Willis.
Bassist Brown guides the ensemble of Kenyatta, Sellers, and Moore through the sassy "I Still Love You," which like many of the moments on After All This Time, could be the single on most other pop albums.
My personal favorite, though, is the penultimate selection on the album "This Is Not Love," which combines Wilburn's uncanny ability to tell a story with an astonishing vocal that still makes me teary-eyed every time I hear it.
Kamau Kenyatta once told me that Wilburn has a voice that makes you believe every single word she sings—and he should know, having produced award-winning albums by Gregory Porter and many others.