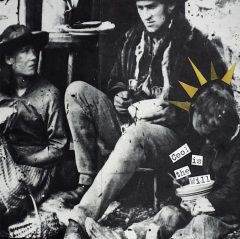 Tennessee Kamanski is an LA pop singer/songwriter, originally from San Diego. If roots fans recognize her surname, there's no surprise: her dad, Paul, has been a local roots fixture with the Coronado-based Comanche Moon as well as Country Dick and the Snuggle Bunnies and other local cowpunk bands. He has also written many Beat Farmer songs, including "Bigger Stones" and "Blue Chevrolet." So, the DNA is there, but Tennessee is not a rockabilly or cowpunk singer and her understated pop is a whole different animal.
Though she has recorded previously as part of a project called Bee Constant, her debut EP is called Cool Is the Will. The five originals were produced and arranged by Aaron Dennis and present Kamanski's soft vocals wrapped in layers of guitars, keys, and percussion; it's glossy, but not too much. Her lyrics are personal and expressive—and are available on her Bandcamp site. They provide an interesting dichotomy between her almost lightweight voice and almost bouncy pop melodies, and the words that need to be heard about often darker images, like shivs being heavy, homelessness, and phone calls from bathroom stalls.
The set kicks off with the title tune, with the most rocking beat here, and an introduction to Kamanski's thought-provoking lyrics, dropping lines like "His mouth like a can opens/ an angel''s prayer to thrill/ every flower knows it slow/ not every person will." It is about affirmation of life and includes an invitation to join her. "Great American Novel" is a softly rendered pop ballad with lovely harmonies on the choruses, dealing with a breakup in the past; there is a hint of wistfulness while she recalls the feelings, as she admits being part of the relationship's collapse.
Kamanski presents a storyboard on "Deep Pockets," sketching a poignant chapter in the life at age 14 and an older friend named Daisy in the urban jungle of LA, on the streets, under neon pizza signs, and wondering about why they never realized their dreams of having modeling careers and lots of money. "I'm a cosmo, Daisy, Daisy/ you're a prescious stone/ why can't being precious be what gets us left alone?" A slow ballad, "Coffee," is another personal statement. This time it's another breakup song, a female lover is leaving after their time together. "On our windowsill/ sits the note we kissed, our lipsticks mixed a color/ I've never seen before, don't think I ever will." It is a touching highlight that covers many emotional bases for those who have had things fall apart despite their best efforts, and the melody enables the confessional lyrics to shine through. "Heavy Little" wraps the set, a lighter-than-air folk-pop melody with sweet harmonies and again the message is a much deeper hue, as Kamanski relates her reaction to the death of a friend by drug OD, and her determination to deal with it and press on, full of imagery and metaphors that catch the ear.
Tennessee Kamanski's Cool Is the Will features songs that may take several repeats to appreciate the full lyrical impact.