This month we take an in depth look at Paul McCartney's June 22 concert at Petco Park, pose Five Questions to Russell Ramo of The Routine, and ask Southern California musicians: Who Is Your Favorite Cartoon Character? Thanks to Beatlsescopio for help with sound check info.
PAUL McCARTNEY RETURNS TO PETCO PARK 2019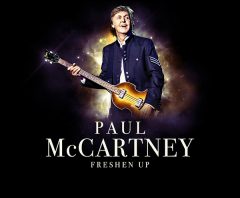 Paul McCartney returned to Petco Park a second time on June 22, 2019, as part of his "Freshen Up Tour."
The band once again consisted of Paul McCartney (bass), Brian Ray (guitar), Rusty Anderson (guitar), Abe Laboriel Jr. (drums), and Paul "Wix" Wickens (keyboards) with a new horn section consisting of Kenji Fenton (saxophone), Mike Davis (trumpet), and Paul Burton (trombone), aka the Hot City Horns.
Before the main show, McCartney performed a sound check concert for a few lucky fans and VIPs, with all songs except "Lady Madonna" (#4/1968), exclusive to that performance.
For the main event McCartney played a 32-song set, plus six encore tunes, to a sold-out house of 40,224. With tickets priced at $29.50– $299.50, plus fees, the night's box office was $6,017,239. Merch sales were strong with offerings, including tour t-shirts, a carded button four pack, a three-piece enamel pin set, a program, and lots more. There was also an official MLB San Diego baseball jersey available that would ship post show, available in blue or white.
Accompanied by visuals on the screens, there was a pre-show set from DJ Chris Holmes, mashing up Beatles, Wings, and solo tracks, as well as cover versions of same. This can be heard at Holmes official Sound Cloud page:
https://soundcloud.com/djchrisholmes/dj-chris-holmes-san-diego-set-6222019-petco-park-paul-mccartney
McCartney was in fine form for the night's concert, kicking off strong with the one-two punch of The Beatles "A Hard Days Night" (#1/1964) and Wings "Juniors Farm" (#3/1974). There were plenty of standout moments: fourth song of the night, "Letting Go" (#39/1975) featured the horn section performing in the left field stands amongst an ecstatic crowd. Meanwhile, the transition between the ukulele and electric sections of "Something" (#1/1969) was flawless, the audience's collective voice particularly strong during that first part.
While there were plenty of classics in the show, McCartney's newer works were also showcased, including three songs from his latest album, Egypt Station (#1/2018), "Who Cares," "Come on to Me," and "Fuh You," with a fourth title, "I Don't Know" in the sound check. "Fuh You" in particular was very well received; McCartney's pre-song remark about being able to tell if the crowd likes a song by the glow of their cell phones, resulted in a sea of lights and a huge crowd sing-a-long.
Other recent albums represented include Memory Almost Full (#3/2007) "Dance Tonight" (#69); Kisses on the Bottom (#5/2011) "My Valentine"; and New (#3/2013): "Queenie Eye."
McCartney alternated amongst bass, electric and acoustic guitar, piano, and keyboard the whole night. The highlight of the show was "Live and Let Die," which included the now traditional mix of lasers, screens, and fireworks. It's a huge, fun spectacle, which the crowd absolutely loved.
The set proper closed with "Hey Jude" (#1/1968) before McCartney and band returned for a six song encore, opening with The White Album's (#1/1968) "Birthday" (1968) and culminating, appropriately enough, with "The End" from Abbey Road (#1/1969).
The Freshen Up Tour ended on July 28, 2019 at Dodger Stadium. Here's hoping Paul McCartney includes San Diego on the next album's tour.
Petco Park – Saturday, June 22, 2019 / Soundcheck
Instrumental Jam / Honey Don't / Coming Up / I Don't Know / Lady Madonna / Drive My Car / Ram On / New / Mrs. Vanderbilt / San Francisco Bay / I Wanna Be Your Man / Alligator
Petco Park – Saturday, Saturday June 22, 2019
A Hard Day's Night / Junior's Farm / Can't Buy Me Love / Letting Go / Who Cares / Got to Get You Into My Life / Come on to Me / Let Me Roll It – Foxy Lady / I've Got a Feeling / Let 'Em In / My Valentine / Nineteen Hundred and Eighty-Five / Maybe I'm Amazed / I've Just Seen a Face / In Spite of All the Danger / From Me to You / Dance Tonight / Love Me Do / Blackbird / Here Today / Queenie Eye / Lady Madonna / Eleanor Rigby / Fuh You / Being for the Benefit of Mr. Kite! / Something / Ob-La-Di, Ob-La-Da / Band on the Run / Back in the U.S.S.R. / Let It Be / Live and Let Die / Hey Jude
Encore
Birthday / Sgt. Pepper's Lonely Hearts Club Band (Reprise) / Helter Skelter / Golden Slumbers / Carry That Weight / The End
FIVE QUESTIONS FOR RUSSELL RAMO / THE ROUTINE

How do you feel about San Diego as a music scene?
San Diego's music community has been really good to us. In 2015 we won SDMA's "Best Rock" category, which was a huge honor. We have also gotten to play several times at the Belly Up and Music Box, which are, of course, our favorite stages in town. Along with that we have done some great local festivals—Adams Ave. Street Fair, Festival of the Arts, Fiesta Del Sol, OB Oktoberfest. We really feel the love in our music community. What we would like to see is more bands coming together and collaborating. Especially across genres; sometimes, it feels like people stay in these cliques. We may be funky, but we love to rock out, and we love to play with rock bands. We love being part of diverse bills, and that's what's so great about San Diego. The diversity of bands. I think people who come here would be surprised to see top notch musicians playing everything from bluegrass to R&B and everything in between.
How much touring have you done?
We have toured quite a bit. Since we started in 2013, we have done anywhere from 4-10 tours a year depending on where we are at. We started right away as a band making trips to LA and San Francisco. We have since travelled all over California, made regular stops in Arizona, been to New Mexico, Utah, Nevada (Vegas), and Texas. We love getting on the road. This last year has been a little slower on touring since I had a kid recently, but we are ramping up to start getting back on the road regularly by next year. Right now we have some dates booked in LA and San Francisco. We may do some winter tours as we love playing the mountain towns. Tahoe, and Norcal have been really fun and good to us.
When will you be releasing new music?
Our latest album release was Puddin, released in June 2018. We are currently writing tracks for a new album and will be getting in the studio later this year. It's looking like 2020 will be our next release.
What's the strangest thing that's happened to you as a musician?
The strangest thing that has happened through music is just being around musicians! Ha ha. Seriously, I think a lot of musicians can relate to always feeling a little "different" their whole lives. It's like you don't fit in anywhere but you get along with everybody. Then you end up in this circle of highly creative, highly sensitive, highly musical people, and you're like, "these are my people!" So yeah, the strangest thing is all the weirdos we get to be our weird selves with!
What motivates you to keep making music through those difficult times?
What motivates us is what brought us together; the music and the community. We have been through a lot together. When we became a band most of us were 25 years old and we had hardly a care in the world. Through six years of us spending so much time together we have been there through so many of life's changes. We've been there for each other through life's ups and downs. We've had our hard times as a band, but the love is always there.
He notes that a band can be like a family. We've cried, laughed, been through highs and lows, and it's kind of beautiful in a way to experience that with people, Ramo said. That's what's special about a band. Normally you only go through those things with family or a few close friends, but a band that stays together for so long becomes very close and intimate.
WHO'S YOUR FAVORITE CARTOON CHARACTER?
The Armoires:
Larysa Bulbenko: "Uncle Iroh from Avatar: The Last Airbender. Although life hit him hard, he still teaches wisdom in a gentle and hilarious way and always makes sure to enjoy the little things (can't miss out on that good ol' jasmine tea)."
Rex Broome: "Jake, the Dog, from Adventure Time, for his sage advice that 'sucking at something is the first step towards being kind of good at something…,' which I find helpful personally and in my day job teaching music to grade school kids!
Christina Bulbenko: "Mine would have to be Jessica Rabbit because she's not sad… she's just drawn that way. I can relate!"
Taryn Donath: "Roger from American Dad! He's a disgustingly beautiful creature who does as he pleases with no apologies! Oh, and Archer! Major tie with Archer!!!"
Michael Jay Dwyer: "Gotta be Popeye! Because he always gets the **** kicked out of him before he decides to eat his spinach. Why wouldn't the dumbass eat the spinach before he gets the **** kicked out of him??? Oh, yeah, then there wouldn't be need for a cartoon episode."
Danny Green: "The first cartoon that comes to mind as my favorite is Peter Griffen from Family Guy. He's so absurd and over the top."
Mel Hintz: "Foghorn Leghorn: Looka here, Ah said Looka here boyh!"
Donna Larsen: "Jessica Rabbit. I can dream, right? She's smarter than she looks."
Scott Mathiasen (S Mathias, Shifty Eyed Dogs, The Infants): "Homer Simpson. On the surface he's just an idiot who seems to be all Id. I feel like on a deeper level (since the show is satire) he's basically the prism with which we see our own lives. Lots of people don't like their job or their boss; a lot of people have kids and spouses and talk to the guy who runs the local bar or convenient store. He's basically us, with fewer brain cells. Plus, especially seasons 1-10, he's just downright hysterical."
Savannah Philyaw: "My favorite is Arthur from KPBS! He is such a class act and, as I've gotten older, I've realized all the amazing life lessons that the episodes used as themes."
Alicia Previn: "It's got to be Quickdraw McGraw, because he's a horse and I love horses and because he's kind of like Colombo; seems a complete dork and a klutz, but he always captures the bad guys and he has an alter ego, El Kabong, when he dons a disguise and becomes the super confident hero stopping evil with a shout and his guitar."
Richard Whig (Thee Allyrgic Reaction): "My favorite super hero is Batman, '60s Batman, of course. He was able nab the bad guys with his cunning and smarts, plus he had chesitey with Catwoman (meow!), Could do the Batusi, and took on the Joker in a surf contest! The best!!!"
Brian Witkin (Cambrian Shores): "I guess Quailman from the old show Doug because he was always the underdog. I was in the wrong generation for the actual show Underdog, so I missed that one."