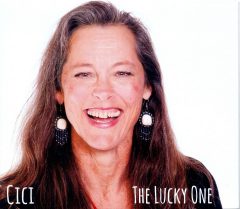 A part of the local roots scene for a long time, Cici Artemisia plans a move to Oregon (and is still one of the featured performers the day this is written at the Lady Brain Fest 2019 in Encinitas). Playing locally since singing for the band Bordertown in the 1980s, she snagged awards and set up a solo career that has resulted in seven releases, including her newest, The Lucky One. She now plays under the moniker Cici, a grandmother continuing to write and perform engaging, often autobiographical Americana pop.
The new album, has 13 songs and backing musicians are a who's who of top San Diego area studio musicians. Produced and recorded by Jeff Berkley, the crew includes Cici's guitar and vocals, and the contributions of Berkley, Larry Grano, Rick Nash, Bob Sale, Doug Pettibone, Sharon Whyte, Dennis Caplinger, and others. The songs vary from breezy rockers to softly rendered folk ballads and a full palette of flavors between.
The set starts off with "Armistice Day," with Cici singing that the war is over, with the typical battlefield wreckage and loss; this was a divorce war, but all the metaphors still click. The autobiographical trend continues with "No Man's Wife," a catchy ballad with an ace arrangement and backup singing (Cathryn Beeks, Ramona Ault, Crystal Woodford) with great lyrics about Cici's youthful commitment to never marry: "What did I know, I was only a girl." A series of her life experiences gets spelled out in the space of four and a half minutes. "Mermaid" is the third track, marking three winners in a row; it is an upbeat highlight about a mermaid with deep blue eyes whose effect on the sailors has won her a reputation: "does she understand the signals she sends when she sings?"
The title song is a straight-ahead guitar rocker with Cici fronting the band and singing about her personal triumph over the obstacles that have faced her, reversing mistakes to emerge on top. "Not Yet a Love Song" is a horn-decorated, playful piece of quirkiness about how Cici doesn't really know a new man yet but might just be interested in jumping into a relationship if he wants to "come out to play." Interesting production decisions mark "Exist," an interesting, personal ballad that has both wonderful mandolin fills by Caplinger on the verses and phased, distorted lead vocals on the nearly overbearing choruses.
Cici addresses the plight of our planet on "To Birth the Dancing Star" as she is singing about her grandchildren's children and what will be left for them. Her vocal is likely the best on the disc as she asks: "what are we doing/ the planet is burning/ what are we doing/ what part do we play?" On "Vampire," the pace is brisk and horns help power along her tune about how she let the man in "with the big teeth" and learned to regret it. Now she is ready to go, and in doing so drive a metaphorical stake through him.
Cici's The Lucky One is a great listen, front to back.