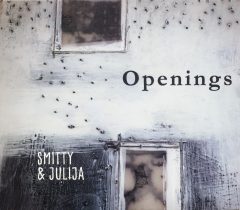 Smitty and Julija are from Ojai, and have combined with the talents of central coast artists on a number of projects that have included discs released by keyboardist Smitty West, and a previous Leonard Cohen tribute EP that garnered attention. The Cohen connection ties into the latest release, Openings, which is a laid-back, eclectic collection of 14 originals that stay consistently in the keyboard-driven folk ballad lane.
This is one of those "takes a village" albums: the impressive lead vocalist throughout is Julija Zonic, with West playing piano and keyboards. All of the words and music were written by Deen Hatoum, not a household name but connected to the others through Ojai songwriter ties. Fourteen studio hands are cited in the artwork playing all manner of backup instruments, including plenty of horns and backup vocalists, and it sounds pristine.
The first track, "Still, They Come," impresses due to an atmospheric arrangement and Zonic's very impressive pipes. The song shifts moods effectively in the middle, and a dark vibe is swept away as she sings of a moment when she "sings herself free," only to have things float mysteriously away by the end. Good tune. Lighter by far, "Butterflies" celebrates the simple joy of pretty insects, and the metaphors they represent in the love game.
The title song is a six-minute plus magnum opus, a very slow piano ballad that examines the options left Zonic as a lover, as her vocal and trumpet filigree fill the empty spaces in a sauntering musical confessional that surely seemed like a good idea, but runs far too long. "Bring You the Moon" is more focused, and though the only instrumentation is West's grand piano, it sounds full and complete, as she promises a lover the stars and moon.
"When did my eyes stop noticing? When did they turn grey?" Zonic asks in "Bright Orange Poppies," a song of regrets, wondering how the world turned her numb to the beauty around her, in the tune with the best lyrics here. "Tea with an Old Friend" is the type of thing that might get lumped in as filler in a 57-minute album of ballads, but it effectively delivers its simple message of expressed friendship, "with lifetimes between us and lifetimes yet to come," without getting lost in the shuffle.
Cello accents and the first backing vocals in many tracks are featured in "My God, The Grace," which dials in Zonic pouring her soul into a spiritual statement incorporating her personal growth and desire to walk the narrow path. It's the catchiest song and disc highlight. "Broken" is along the same lines, a song that reflects Zonic's becoming whole, "if you stay with me, kiss my lips, you will see the whole of me." She hits the high notes effortlessly here as elsewhere.
As with some other 14-track albums, this project drives down many of the same musical avenues too many times. Openings still has much to offer for ballad fans, and Julija Zonic's vocals are a revelation.