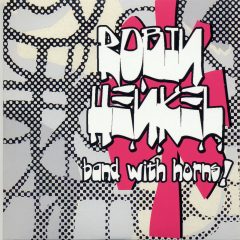 Award-winning local blues and jazz guitar whiz Robin Henkel has a dozen previous album releases, but none featuring his Robin Henkel Band with Horns until now. The self-titled project is an unusual recording that gathers 11 tracks composed and arranged by Henkel, played by a crew that includes Henkel's guitar, Steve Ebner on trumpet and flugelhorn, Dave Castel de Oro on tenor sax and clarinet, Tory Jennings on baritone sax, Jodie Hill on bass, Michael Yates on percussion, and Kevin Koch handling drums. The nicely recorded set leans toward funk and jazz and is primarily instrumental.
Things get rolling with "Bobita," instantly memorable and laying down the first of many choppy, funk-filled rhythm statements by Henkel on an album where his presence is primarily a chord-chunking guide figure. Over his playing, the horns deliver smooth, unison hooks that sound like something the listener knows by heart, and it clicks so well that the four-and-half minute tune seems almost short. The standout performer on many of the tracks is Koch, and on "Jeep's Blues" he gets to flash his oats a bit, as the horns take a jazzy spin.
Henkel is a master of various guitar styles, and on "Paddy Cake" he takes a tasty lead break that snakes lead lines around his semi-muted chords, which give a voice to the buildups by the horn chorus, working well together. "Bada" is another locked-in catchy piece of funky delight, the highlight of the set. Like "Bobita," unison playing by the horns breezes through to give way to a nice trumpet solo, then a few bars of Henkel making his own case, before the entire band soars together, then fades.
For Henkel fans who have heard his recent vocals on albums like Slippery Like a Watermelon Seed, there is "Everybody's Pissed," with his gruff voice rattling off humorous lyrics about being on the road with bad drivers, "I don't even care if you come to your senses/ Don't bother me, 'cause I'm passive aggressive." "Tonopah" has a big-band feel as the group plays some tight unison riffs to set up a flugelhorn solo that gives way to Henkel, who eschews flash for solid fundamentals once again.
After another visit to the microphone for "Chump Change," which sounds like an outtake from the Watermelon Seed disc, smart sax licks decorate "Reet Beat" as the jump pace flies forward and the horns each get a chance to say something before more nicely executed unison playing grabs the ear. The final track, "Backstage Blues," takes the feel of "Reet" a step further in the same vein, as Jennings' baritone sax has his turn while the drums add a stutterstep for the occasion. Instrumental jazz fans will find much to enjoy on this new album by the Robin Henkel Band.