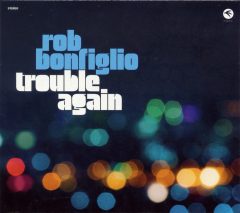 These days it's rare to find an album that allows the listener to transparently trace its roots, influences, and aspirations to a realized completion of what may be a minor pop masterpiece. Rob Bonfiglio's latest solo release, Trouble Again, is a rich tapestry of skillfully written, arranged, and produced power-infused pop-rock songs. Contained within are lyrics that stir us toward a deeper look at our lives.
His fifth solo album finds Bonfiglio gleefully confident as he ties together his musical life-journey with songs that are as open as a sea breeze drawing from a variety of genre and style influences. It is a lyric-driven musical biography seamlessly created through melody, power-chords, and layers of harmonies that call to mind the best days of America and the Beach Boys. A larger-than-life production makes the proceedings even more impressive considering Bonfiglio made the entire album on his own in his home studio.
As the musical director and lead guitarist for Wilson Phillips, with personal ties to the band through marriage to Carnie Wilson, Bonfiglio is a 20-year veteran of L.A. rock. He supports a multitude of music projects throughout L.A., including an occasional tour playing guitar with Brian Wilson's band.
But a thorough listen to his solo albums reveals a recording artist in top form of his own powers of original creativity. Trouble Again is a continuation of the musical continuity he's been working on most of his creative life. There are important threads of influence in all his work, but they are especially present on this album. It's hard to miss the British rock drawn from of late 1960s… think the early Small Faces of "Itchycoo Park." Beneath the layers of carefully crafted production, in the nervy pulse of the songs, is his early influences of Philly-Soul. Think Hall & Oates only with deeper roots in rock 'n' roll. That's Rob Bonfligio.
The opening song, "Passenger Seat," demonstrates Bonfiglio's ability with the traditional song-hook in pop music, as the lyrics invite the listener to come along for the musical ride. "Trouble Again" reveals the connection between the freedom of childhood and the sometimes-stifling life as a creative adult.
Since age of five I chose to fly
I never thought I'd still be flying today
I cut the line instead of dying on the vine
But I guess the child don't go away.
And while it may be good that the child inside us continues to live, the creative journey is sometimes a rough and troubling ride into uncertainty that can't be captured or possessed.
When I close my eyes, I can for 15 minutes
Feel the world on my side, I can for 15 minutes
And then I let the feeling end tossing and turning
All around I fall to pieces on the ground.
Then, the lyric leaves us with the unsteady conclusion:
I never claimed to have the power to contain consistent harmony
But once or twice if I could only break the vice, I'd set my true intentions free
Nothing real remains, I get the feeling I'm in trouble again.
It's the longing of the heart in lyrics displayed consistently throughout this album, set against a bright and celebrative sonic-quilt of pop-rock that makes this album work beyond ordinary pop music. It's apparent in songs like "Dreaming," and the unsettled passionate love song, "Blow Me Away." The fresh brush of teen-age love gone awry is well realized in "There Goes My Heart Again." There is the distinct feeling of the spirit of George Harrison present in this song just as if you listen closely you may hear other whispers in these songs from Beatles, Byrds and Beach Boys.
For the die-hard and curious Beach Boy fan, you'll have to wait until the second to last song for the pay-off. "Mr. No One" gives an intricate background harmony vocal that echoes the work of Bonfiglio's iconic father-in-law, Brian Wilson. There are points where you can almost hear the late Carl Wilson's voice coming in to fill some of the interludes with his sweet voice. The closing song, "Hey Blue," is an excellent bookend to the opening "Passenger Seat." The ride comes to an end, but, 'hey blue…don't believe it's over, let your spirit shine through.'
So, on Trouble Again, this vital solo artist takes us on a musical, lyrical ride through the complexities of the human soul and then leaves us with this song of hope and joy. He leaves us with an encouraging note of love. And after all, isn't that what music is meant to do as we 'hang on to that beauty in our hearts?'