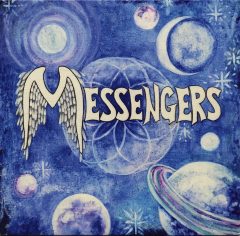 The self-titled new album by Donna Larsen and the Messengers finds the singer/songwriter in a full band setting, moving comfortably between pop and rock idioms on a dozen originals. Larsen is a take-charge vocalist who can deliver a variety of personae from lush ballads to fronting a grinding guitar rock crew. Her songs may jump genres, but she manages to stay catchy and sounds comfortable throughout; as a lyricist she also writes interesting, observational snapshots—some introspective and others familiar.
The Messengers, in addition to Larsen's vocals and rhythm guitar, are Randy Hodge on lead guitar, John "J Rod" Rodriguez on bass, and Paul McGee on drums and percussion; the disc adds Scott Gorham's piano and keys to good effect on several tracks. Josquin Des Pres at Track Star studio did a nice production job. The opener is "A Ghost From the Past," a choppy, charging rocker, which sends a message that this set is going to turn up the knobs, with Larsen telling a tale of her readiness to move forward and ditch the baggage of unsatisfactory past relationships and experiences. Quite different, "And So It Is" follows, a lovely pop song built on great chorus harmonies and scat singing, about the journey of self-improvement.
Another effective pop tune is "The Step," as Larsen examines a personal choice that has repercussions. To a catchy hook, she wonders, "Courage and might I'm asking for/ Take the step, open the door, leading out of my comfort zone to the unknown/ Do I take the step?" Beautiful harmonies help drive this one home. "Easy as Pie" is a tasty shot of straight up rock 'n' roll that clicks with nice guitar work.
The best ballad is "Solitude," which floats in on piano and gives Larsen a chance to flash her emotional and vocal range. A great arrangement enhances this highlight, which takes its time and burns itself into the listener's brain the way great songs do. A hybrid reggae-rock lurch drives "The Corner," and as it chunks along Larsen is again talking about introspective issues—she must decide between two courses, "standing on the corner of truth and honesty."
The songs on this program are not hurried, the songs average over four minutes and four ballads are at least five. Nothing seems to be overblown or too long, though, while nothing stops short. "Beautiful Whisper" is a softly rendered love song, about transcendent features of the love she experiences for another. Soaring background vocals give this one an ethereal vibe, and Larsen again shows the strength of her pipes, effortlessly bouncing high. "Every Song is a Miracle" presses many of the same buttons.
Larsen wraps the set with "The Last Prayer," about an effort to achieve peace. "Silence is the greatest cause of wars." She challenges the listener to take up the cause—as she invokes the brave youth who died in Tiananmen square. The lesson comes across on layered guitars and keyboards, a triumphant buildup with a timely message. And a perfect final statement by Donna Larsen and the Messengers on their excellent new album.