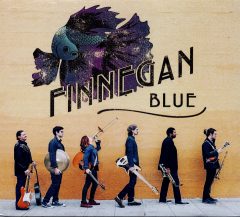 North Park's Finnegan Blue wants to be everybody's everything; the sextet plays originals that touch all the bases with folk-inspired rock, gospel, reggae, Irish and American bluegrass, even NOLA-based horn chart soul music. On their self-titled CD, perhaps the most interesting thing is the sense of surprise brought on by such a range of music from track to track.
Siblings Bill and Anna Lee Fleming write the songs and sing, and play multiple instruments (both on guitar, he adds mandolin, while both add trombone on one track); Rocky Giordano plays electric guitar, Oskar Beckmann bass, Ronnie Valles drums, and Malcolm Jones on sax.
"Come Follow Me" kicks off the set and while it doesn't try to rewrite musical history, it takes a Bo Diddley-inspired beat and turns it into a duet that is infectious and catchy, as the two lead singers have a great harmony mix and the band doesn't back away from having Bill and Giordano trade hot mandolin and guitar licks during the break. Anna Lee wrote and sings "Check the Water," which takes a reggae approach with a great hook to snag the listener, as she sings "jump in the water and swim with me." The song has nice guitar work from Giordano and organ by guest Tim Felten.
The band's website features the tune "Rye Whiskey," which floats in on some nifty mandolin licks and good lead vocal by Anna Lee. This disc's highlight is a brisk bluegrass stomper that flashes plenty of high harmonies and slick fretboard flash. Gospel gets the treatment with big harmonies on "Elegy," about a too-young dead youth, a toe tapper like "Rye" that moves right into a verse or two of "Will the Circle Be Unbroken." On Will's "San Francisco," it is a western-themed ballad about a trip to the Bay by a couple, in minor chords with jazzy guitar and mandolin fills. The tune paints a tale of bandits and misadventure in the desert, "we sang ourselves to sleep while the fire danced to the beat/ and the stars rose to their feet." Great crescendos that take it to another level make this the sleeper on the disc.
Later in the set Will's "Run" is a personal folk-rock song about his spiritual quest; he is asking God's helping hand as he hits reset on his life, and makes a commitment to his sister to stay and work together to face and conquer this world's problems. For Anna Lee, "Johnny" is her personal statement, a poignant story about a beach scene acquaintance who needs help with drug addiction.
Then things get weird, as "Keep the Ball Rollin'" features the principals on trombone (and five guests on various brass). It's a live in-the-studio, NOLA back-line style, quasi-instrumental that sounds like a track by another band on another album, with a snappy Dixieland beat that propels a series of horn solos for over seven-and-a-half minutes. This odd choice is better than "Pickles," a goof track closing the program hidden by nearly five minutes of silence.
Americana fans will find Finnegan Blue's patchwork of music styles
fascinating.