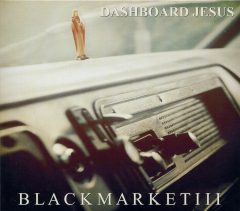 Black Market III has now been around for seven years and have released five CDs, toured the US and Europe, and are on a run of seven straight nominations for San Diego Music Awards, as well as other recognition. Their music has been consistent, a blend of fiery blues originals and well-chosen covers that take a power-trio approach to R&B and blues, delivered with gusto by Scottie Blinn (guitar, vocals), Roxanne Coverdale (bass, vocals, percussion), and Alan West on drums.
Their newest is Dash Board Jesus, with 11 tunes getting the Black Market treatment. Produced by Blinn and Coverdale, the set gets some studio help from Billy Watson, Gary St Clair, Carl Sonny Leland, Tomcat Courtney, and others. It is, for the most, part stripped-down blues, aiming for the musical jugular.
A blues rock band like this does well to realize that their genre stands on the shoulders of older artists who brought blues from small urban clubs to a larger audience, and Blinn and crew waste no time saluting their sources. "Daddy Rolling Stone" kicks things off, as Blinn digs into the Otis Blackwell standard with a chunky rhythm riff that backs up his excellent vocal and growling guitar statements. Blinn's guitar playing is crisp, clean, and unpretentious; he carves but doesn't make a mess. Another stellar cover, Bobby Blue Bland's "I Wouldn't Treat a Dog (The Way You Treated Me)" shows Blinn's vocal range, as well as his headlong dives into guitar solo breaks. Five minutes long, it takes the time to simmer, like many of the other tracks.
Coverdale has the mic for "Your Love Is So Cruel," an original by her and Watson. This one has a slow tempo and smoky vibe, as Watson lays down some sweet harp and Coverdale tells off an errant lover that she is ready to "Remove the chains, baby/ I'm setting you free." Blinn takes a heavier approach to "When the Sun Goes Down," which lumbers forward with evil intentions, and plays out with throbbing guitar riffs.
After a short guitar prelude, "Black Roses" ups the rock guitar ante, the title tune to 2013's superb album, with Blinn tearing into an upper register foray on his rig. Jesus Cuevas backs Coverdale's Spanish vocal on "Regresare," and violins help this track take the listener for a musical detour south of the border. Next, a great vocal on Blinn on the traditional gospel "Oh Mary, Don't You Weep," sings about how "the Pharaoh's army got drowneded," while the choir behind him includes Roni Lee and Joey Harris, soaring above some super tasty piano by Leland that gives it a Crescent City feel.
Blinn has cited Tomcat Courtney as a key influence, and played with the veteran San Diego blues master on and off for 30 years. The album closer slows things down, and features Courtney singing "Gallows Pole" to Blinn's acoustic blues guitar. He sounds right at home, and this farewell is perfect for a blues journey as satisfying as Black Market III's Dashboard Jesus.