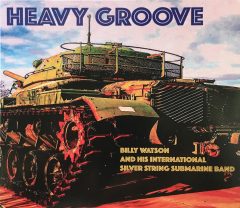 He has 11 CD releases now with his latest, Heavy Groove, but Billy Watson and His International Silver String Submarine Band are a local jamming blues fixture. He has played his harp and sung with virtually every blues player in town (and many others), while his band is a rotating cast of established blues combo aces. His new album, like many of his others, is "live in the studio" with songs that are Watson originals that form good launching points for harp and guitar solo breaks.
On hand for the Nathan James-produced project are James, Adrian Demain, and Junior Watson on guitar; drummers Alan West and Malachi Johnson; bassists John Bazz and Burt Newman; and Watson plays bongos, harp, and does the singing on 12 tracks that mix instrumentals in with Watson's alternatively funky, growling, and quirky blues. At the end of the day, this is jam music and the payoff is in Watson's harp playing, which is a melting pot of recent and contemporary bluesmen like Rick Estrin and Steve Guyger, and the interesting mix of guitar styles from the three top-shelf axe men on hand, who are all masters of the craft.
"Hey Hey Hey" is a catchy jump blues with a hopping bassline and clean, jazz-inspired lead guitar riffs beneath Watson's lyrics about having a ball and getting along. The album lives up to its name, to an extent, with "Art Blakey Rip-Off," an instrumental built around a lurching bass riff. At 3:28, it is the shortest track. These guys aren't in a hurry and there is lots of room to take breaks. The band grinds things out on "Stop That Train," with Watson's vocal down and dirty as the song never changes out of its root key for two minutes, pounding away about his baby coming home and providing some truly nasty moments to attack with his harp licks.
The tracks and beats alternate between shuffles, funky toe tappers, and blues grinders. Watson's established quirky streak occupies "Secret Agent Groove," a leisurely instrumental highlight that focuses on a dance between his harp licks and tasty, exotic guitar fills that launch into a musical haze that includes tingling chimes and rattling percussion throughout. "Step Back Baby" and "I'm Going" are blues funk by the numbers, with nearly the same groove, but they still generate energy late in the program.
Billy Watson and His International Submarine Silver String Band can be counted on to lay down solid blues, and they do so again on Heavy Groove.