A new year a new FYI. This time out we have a new batch of Strange Stage Tales, My Top 15 Shows for 2018 and and a few reviews.
Dakota Ringer (The Naked I): "Once we had an audience member jump on stage with a melodica and hijack a microphone. We just kinda kept jamming and let him rip it up! It was actually pretty amazing. Of course, it was during a 420fest at Cheba Hut so you gotta be ready for anything there. But we love that our music pumped that guy up to a level where he just NEEDED to do that!"
Scott Samuels (Phaze , Vinyl Pirates, Solitary Diamonds): "We did a show at Young Republicans event and a guy offered me $100 if we'd start playing during one of the speeches–I should have taken it."
Robert Harvey (Electric Waste Band): "We had a belly piercing on the subwoofer at Winston's between sets. I did the play by play for the crowd on the piercing. I was surprised by the amount of force and the multiple attempts it took to pierce through all the skin. We started out playing Friday's at Dreamstreet. And, frankly, at that time anything could and would go on in the booths while we were playing."
Al Howard: "Someone threw a bottle at me when I read a political piece, but their aim sucked and they came much closer to our drummer."
Erick Fentress (Bloodstone): "The best thing is when DJ Quik came on stage when I was performing. The strangest was when I was supposed to open up for Mack 10 and the promoter didn't have all his money. Mack 10 was in the parking lot, then just left, and I ended up being the headliner. The worst was at 4th and B. The promoter put us on at 2 a.m. because once again, "didn't have all the money." So when we got on the crowd was restless and we got booed."
Steve Rosenbaum: "After letting a guitar player know that after our next gig, his services were no longer required, he patiently waited until the last song on his last gig for his revenge. Right at the moment where I expected only the applause and screams of adulation from the dancing crowd that I knew I deserved, the guitar player hit me right in the face with a cream pie. So much for an encore."
Cindy Lee Berryhill: Part 1 "A woman got up on stage suddenly while my band and I were playing a rousing rocker closing tune, and started juggling flaming fire sticks right alongside us. This was on a very old wooden stage and theater in Wilmington, NC. Somehow, she didn't drop one and no one was harmed that evening, including the old theater."
Cindy Lee Berryhill: Part 2 "Opening the second show that night for legendary blues keyboardist Jimmy Smith, in a barn with hay-bale seats, we get a shout out from someone in the crowd. Its Jimmy's wife she says, "You can be done now, Jimmy's ready to go on." We tried to finish the song, but she insisted we just stop."
FAVORITE SHOWS OF 2018

I was fortunate enough to catch a lot of great shows this year, here are 15 favorites.
1) 05/05/18 The Sleepwalkers at Border X (a heck of a house party)
2) 12/09/18 Nikki Hill at Tio Leo's (a vocal powerhouse, with Laura Chavez on guitar)
3) 06/09/18 Baby Bushka at The Casbah (never thought I'd hear "Suspended in Gaffa" live. Or anything on this great set list)
4) 12/11/18 Little Steven & The Discples of Soul at The House of Blues (a 15-piece band, a soul revue with E Street Band legend–amazingly tight with a choice song selection)
5) 10/18/18 The Schizophonics aboard the Citybeat Cruise (almost surreal to see the skyline change as this trio rocked the top deck)
6) 12/06/18 Irradio at The Casbah (great songs and guitar from Dan Dasher)
7) 06/23/18 Babydoll Warriors at Bar Pink (top-notch debut)
8) 06/27/18 Ron & the Reapers at Bar Pink (with Carl Rusk of the Nashville Ramblers plus Chloe Lou)
9) 09/16/18 Yacht Rock Revue at The Music Box (1970s' AM radio at it's best)
10) 10/22/18 Simple Minds at Humphrey's (great performance from Jim Kerr)
11) 09/14/18: The Zombies at KAABOO (A favorite band, only down the list because it was a festival set, which is shorter than a typical club set)
09/16/18Â Â  Elvin Bishop at KAABOO (joined by Johnny Vernazza for "Fooled Around and Fell In Love")
12) 12/02/18 Creepy Creeps at Sonofest (rockin fun in Santa Hats)
13) 05/26/18 The Posies at Soda Bar (ad libs galore and "Solar Sister")
14) 07/18/18 The Fixx at Birch Aquarium (good set, great crowd, incredible view)
15) 02/06/18 Ariel Levine at The Casbah (2018 SDMA Song of the Year: "Sunshine Part 2: On My Color TV ")
ALBUM REVIEWS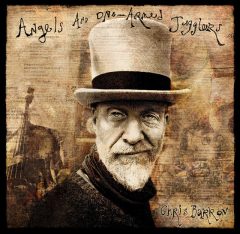 Chris Barron: Angels and One Armed Jugglers (Chrysanthemum Records)
Eleven tracks from Chris Barron, best known for his work with the Spin Doctors. I was lucky enough to catch an intimate set from Barron at Lestat's a few months ago and can attest to how well-crafted these tunes are with just the man and his guitar, but fleshed out by a cast of 15 musicians, they reveal even more melodic layers. The album opens strong with the title track, a wonderful horn-backed piano ballad that reminds me of Randy Newman / James Taylor (Apple album only), but with sweeter vocals. Barron really shows his song craft to good effect, packing a lot into the songs 2:44. Melancholy mid tempo rocker "Too Young to Fade" is also full of hooks, but the single here is likely "April and May," a terrific, breezy, all hook jangle pop rocker, a 2:37 pop gem complete with a wonderful climbing bridge and closing breakdown. A strong collection of songs. www.thechrisbarron.com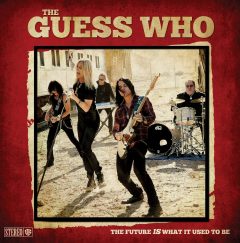 The Guess Who: The Future IS What It Used To Be (Cleopatra Records)
The Guess Who continue on with only drummer Gary Peterson still aboard; this is their first album in 23 years / first major (indie) label release in 40 years. In concert they still play the hits from the Bachman / Cummings days, but this is a completely revamped rock combo, now featuring former Quiet Riot bassist Rudy Sarzo and as heard on this album, featuring new, harder-edged tunes. I'll admit, I wasn't expecting much from a band featuring only one, non-songwriting band member, but Peterson has put together a solid, if different-sounding band. The playing is top notch, but the key is a batch of good songs. At it's best it's Cheap Trick-type powerpop with Beatle-esque touches, as heard on this album's impressively catchy lead single "Playin on the Radio." Also good is the McCartney-esque semi-ballad "Long Day," highlighted by terrific harmonies. Meanwhile, a future single would surely be "Give It A Try," which reminds me a bit of the Raspberries. Much of the rest of the album is more straight-forward rock, complete with a few lyrical cliches, but the diversity of sounds found here works well. Piano-led power ballad "Haunted" includes some nice pop touches, while "Runnin' Blind" sounds a bit like a Faces / Beach Boys crossover. Then there's the more straight ahead boogie-laced rock of "In America," complete with a rave up at the end–it's custom made for summer festival singalongs. While the album doesn't sound like classic era Guess Who–and taking into account the line up changes, how could it ? Taken on its own merits, The Future IS What It Used To Be is a solid debut for the new Guess Who and worth a listen. Available on black or red vinyl. www.theguesswho.com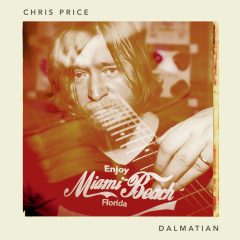 Chris Price: Dalmation (Omnivore Recordings)
He's produced Emitt Rhodes, toured as opening act for The Who and here Chris Price puts together 13 excellent pop rock tunes. The production is superb, with songs led by both piano and guitar and echoes of all sorts of good stuff in here: Beach Boys-type harmonies, '70s' AM pop radio hooks, glam beats, quirky themes, and lyrical wordplay, as heard on the tune, "Breakfast Cruise." As good as that is, the obvious single on Dalmation is "Roller Coaster," 2:12 of power pop perfection, managing to include 12-string jangle, a slide solo, wonderfully arranged backing vocals, and ear worm melody. "I Won't Be Loved" is the sort of tight concise rocker that would make Rockpile proud. Another favorite here is soul mod stomper "Discount Love," which reminds me of Ed Ball's Times mixed with Motown beats and a wonderful vocal break at 2:16. Also good is "I'll Follow Her Anywhere," an atmospheric acoustic guitar-based ballad, with Price singing in a higher pitch, which to my ears sounds like something that might have been sung by mid-seventies era Art Garfunkel. I also have to mention the brief link tracks, which really add to the overall albums charm. Dalmation is an album that really grows on you with each listen, the variety of sounds and quality of the songs more than enough reason for music fans to add this to their collection as well as keep / add Price on their musical radar. www.omnivorerecordings.com/chris-price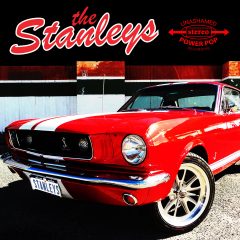 The Stanleys: s/t (Debut Album) (Pop Detective Records)
Yes! A blast of rock 'n' roll adrenaline start to finish. Long time fans of this Australian quartet will have heard these songs live on their numerous world tours. Indeed, they've played San Diego several times, blowing away audiences at venues like Eleven, the Black Cat Bar, and the Chico Club. The album includes both excellent recent singles "Always" and "Amy" and, in a way, that's what we have here, a strong collection of singles, road tested . The album has a youthful energy as heard on the singalong gonna-be classic "Everybody Dance," with the albums overall sound reminding me of a heavier Husker Du in particular and classic punk pop in general, buzz saw guitars full throttle. How good is this album? In author John Borack's recent book, 200 Greatest Powerpop Albums 1970-2017, it's pretty much the reason the collection spans to 2017, with the album coming in at an impressive #92, a fresh new name amongst giants of the genre. An essential addition to any power pop fans collection. Available in red vinyl.