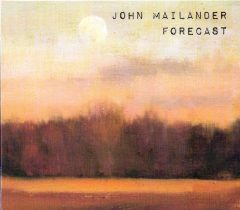 A few short years ago, John Mailander was known for his work in bluegrass music here in San Diego in numerous band projects. The fiddler got together with some stellar friends for a solo CD in 2014, Walking Distance, recorded in Massachusetts, then he relocated to Nashville. He has remained an in-demand studio recording artist, and his new album is Forecast.
Mailander showed on his earlier recordings and again on Distance that he has the fiery bluegrass thing down pat, from folksy rustic to raise-hell hoedown. The seven tracks on his new disc show another side to his craft, a fiddler become violinist, immersing himself and his wooden instrument in jazz explorations, quiet and contemplative soundscapes that involve empty spaces, interplay with sax (Chris Miller) on many songs, and a generally softer, less headlong approach. And there are moments of grass, too.
"Oneida" is one of several Mailander originals and gradually kicks off the program, drums, and bass serenade his spare violin statements, then sax has its turn; no one is in a hurry, but by the six-minute end, Mailander's flying scales are doing dances around the sax lines. The fusion echoes lead into Frank Zappa's "Blessed Relief," and the listener is in full jazz mode enough that a few of Mailander's licks recall Stephane Grappelli's, in a good way, and a slick Django-style guitar break by Jake Stargel doesn't hurt the impression.
The style parade is in full swing with "Luminosity," taking an ethereal trip into teritory that works a drone hook and steel guitar echoes for mystique points; then Mailander's single is a cover of John Lennon's "Imagine." This song was made for a violin instrumental presentation, and Mailander does it right, an ultraslow sonic dance with Stargel's acoustic guitar, and a few contributions from the sax. The set wraps with the lively title tune, a sort of newgrass jam tune highlight that uses nice drum stutter-steps to give Mailander and Stargel moments to lay down hot licks, which then evolves into floating jazz verses that find Mailander climbing inventive musical staircases before the ensemble gets back together for a last few bars.
Forecast is a great listen and should win John Mailander an expanded audience.