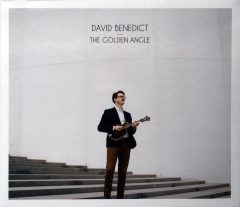 If top notch bluegrass instrumentation on acoustic instruments is your cup of tea, you will love the new instrumental album from David Benedict. Titled The Golden Angle, this great recording features some of the best in the business on complementary backup instruments–David Grier and Ross Martin on guitar, Mike Barnett and Stuart Duncan on fiddle, Missy Raines on bass, and Wes Corbett on banjo. Together these fine musicians have produced a true top-quality opus of modern American acoustic string-band music presented in a bluegrass-informed style.
The Golden Angle was produced by mandolinist Matt Flinner and recorded by Ben Surratt at his Rec Room studio in Nashville. The listening experience is crisp, clear, and warm the way this kind of music should be. No surprise there, with the quality of musicianship and with Ben Surratt having just won the very first IBMA Recording Engineer of the Year award.
The album is all David Benedict originals, and they all feature compelling melodies and a variety of rhythms, speeds, and moods. They range from the upbeat and bright, to waltzes, to moody slow tunes, to playful acoustic excursions. After graduating with a music degree David Benedict honed his skills playing with Missy Raines and her New Hip Nashville based band for three years. In 2017 he left for Boston to join the bluegrass band Mile Twelve. This fine group made an almost immediate mark, garnering the 2017 IBMA Momentum Award.
While still a young man, David Benedict's writing and playing skills present themselves as if from a more seasoned musician. This guy is writing and playing with the best of the best, and he can hang with all of them. Unless you absolutely have to have vocals on all your recordings, do yourself a favor and pick up a copy of this great album. You won't regret it.