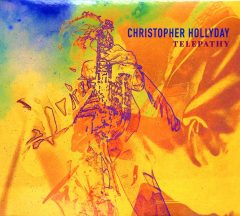 This month's cover story subject, altoist Christopher Hollyday, had already lived a storied life in jazz that began even before he discovered the saxophone at the age of 10. By the time he was 20, he had a major label recording contract (remember those?) on RCA/Novus, and had been hailed a "young lion" mentioned in the same breath as Wynton Marsalis and the recently departed Roy Hargrove.
But then the recession kicked in, and after four albums under his belt, he switched gears, went back to school and embarked on a long career as a music educator, dropping out of sight as a performer for almost 13 years, until he resurfaced as a regular at the Gilbert Castellanos jam session five years ago.
Hollyday is back–this time with an even clearer imperative and a blistering ensemble comprised of the cream of the Southern California mainstream jazz elite, delivering an album heavy on intuitive communication and one-hundred-proof bebop. Accompanying him on this journey are Gilbert Castellanos on trumpet, Joshua White on piano, Rob Thorsen on bass, and Tyler Kreutel on drums.
Opening with Freddie Hubbard's smoking original "One of Another Kind," the interplay among the musicians could not get any tighter without violating some sort of OSHA regulations. All of the principals drop deft and meaningful solos while the rhythm section keeps them tethered to terra firma.
Bud Powell's "Hallucinations" boasts some of the most compelling bebop I've heard in quite some time. In one heated exchange, Hollyday begins quoting Charlie Parker's "Billie's Bounce," while Castellanos answers with another Parker snippet of "Moose the Mooch." Hollyday wasn't kidding when he decided on Telepathy as a title, that exchange alone provides all of the prima facie evidence one would need to make that case.
Joshua White opens the tender ballad "Autumn in New York," with pensive grace, and Hollyday proceeds to crush it with his disarming and wistful interpretation of the theme. Many players can rip through the changes, but it takes a real master to leave space and make each note count, something that all five of these cats understand intuitively–part of that whole telepathy thing.
They sign off the date with another chestnut from the bebop era, Charlie Parker's "Segment," where the horns answer each others questions, finish each others sentences and inspire the whole ensemble to swing their asses off.
Let's hope Hollyday doesn't make us wait another 25 years before returning to the studio