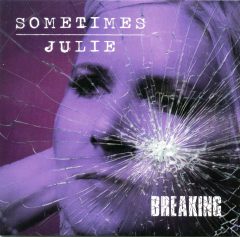 Sometimes Julie broke through a few years back with a full-length CD, Head First; the band, featuring powerful vocalist Monica Sorenson, played songs with a classic rock feel. They moved to a harder rocking edge on Bright Side of the Line and are back with a new EP, Breaking, rocking hard as ever.
This seven-tune collection is again mostly written by Sorensen and singer/keyboard/guitarist Rick Walker and the overall sound is alt-rock, leaning on Sorenson's impressive pipes with little effort to be subtle or quirky: plenty of overdriven guitars, cranked-up organ, and big crescendos.
They leave no doubt about the approach on "In My Bones" as the opener is balls-to-the-walls guitar rock with Sorenson is mixed hot to wail about how "blood is thicker than water." Good harmonies on the chorus and a crash-and-burn guitar solo by Alberto Moreno add propulsion. The title tune hammers the hard rock message home, building from a brooding lick to power chords as she sings "I've held my thoughts close to my vest/ Now they're pounding in my chest."
"Picking Up the Pieces" finds Sorenson telling the bitter truth to a friend who was betrayed by a straying male lover, a traditional country theme helped by a modern country-rock feel. The softest the group gets is on "Send Me a Sign," but even it grinds out the choruses. The set wraps with "I Will Not Go Quietly," a punchy rocker that for whatever reason recalls Pat Benatar.
Breaking rocks, and showcases Monica Sorenson's considerable vocal talents.