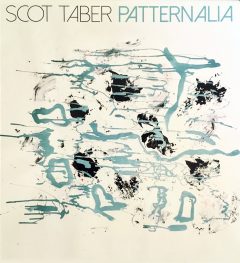 Scot Taber plays acoustic flamenco, Spanish, Brazilian jazz guitar, and related modes; he is a comfortable master of his craft who has been heard on solo discs since 2002 and in combos with Arturo Gaibay and, more recently, in Paper Moon with Daniel Dever and Joe Amato. His latest album is Patternalia, which collects a diverse dozen Taber originals that crisscross styles, all of which give him a chance to flash his versatility on various acoustic guitars, from nylon classical to big mouth Django rigs, to steel string models. Taber arranges his songs and plays accordion and mandolin on the program, while Sam Johnson's bass and drums by Julien Cantelm lay down the beats.
Taber is a very complete instrumentalist and his songs are fully realized canvases on which he leaves few blank spaces. He shows bits of flash here and there, but the music isn't about showing off, he uses effects to enhance the sound, like on the opener "Plus Ultra," where a vibrant South American groove establishes some moments to expand on the catchy guitar hook, but he avoids filling the air with a million notes in favor of a skilled solo that completes the idea of the song. "La Brigada" gives Taber a chance to express the lyrical possibilities of his instrument, as a bouncing riff is answered by upper register picking that seems to be words of a song.
It is more of the same on "Ubiquitous Things," which establishes its basic melody only to add answers by a second guitar track, a jazz-infused solo, and a bridge that recalls a mariachi band—it sounds ubiquitous. Fusion is represented before long with the drop-down melody of "Memory of Science," that very soon resolves into angular scales from unusual modes that take the song elsewhere briefly. As the piece plays out, the layers of harmonics and picked guitar notes chime as on most of the material here—most of the songs are less than three minutes but get their ideas across.
The melody for "The Watchmaker" is spelled out with steel strings, and a tick-tock rhythm, and it segues into "Shipwreck," which starts small like sprinkling rain, then morphs gradually into flamenco strums that sound like sea waves breaking over a ship in trouble. Taber is an ace at making the guitars accomplish a certain effect, here there are even wah-wahs in the fade out. While another nylon-string master might use "Forking Paths" laid-back pace to burn holes in space with lightning scales, Taber's approach is a bit more restrained but still challenging.
On "A Troubling Precedent" he dives into a strong, headlong jazz melodic statement, staying away from any real solo contribution that might only detract, as the layers of sound seem to carry the listener with them. A softer moment is heard as "In Absentia" wraps the set, starting with Taber single-tracked on nylon guitar, then adding quiet bass and drum support; a mellow final statement. Scot Taber's Patternalia will find many admirers with local music fans who enjoy acoustic, instrumental guitar.