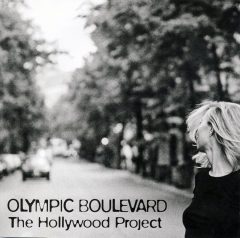 In a world full of angst on this ball of confusion, it is encouraging to report that another rock 'n' roll love letter of respite has arrived from the allied forces of The Hollywood Project. Olympic Boulevard is the second effort by singer/songwriter/guitarist Dave Humphries, lyricist Stephen Kalinich, and keyboardist/producer Wolfgang Grasekamp. It's another ten-track affair from this threesome that continues to plumb the dreamy, inexhaustible melodic depths all things Beatles/Beach Boys. As silky smooth as 2015's No One Like U is, Olympic Boulevard goes several steps further toward that grand intersection of pop confection and spiritual perfection.
The lyrical content is primarily the providence of poet Kalinich, and it should come as no surprise that as first-hand veterans of the '60s, chief among the sentiments is that of growing older, perhaps even wiser, and reflecting upon the fact that the clock is ticking on us all—but for some it ticks a tad bit louder. Mortality is one of the chief meditations of this disc, particularly in "Too Soon" and the yearning of "Your Music Runs Through Me," with its George Harrison-like slide guitar that is gentle and imploring, on a cosmic search for what sounds like redemption, salvation, understanding, balance, and acceptance of life on its own terms.
"That's My Rule" sounds like a jolly knees up at the local pub, with its pacifistic message. "Play Some Songs" is a side trip through the annals of music hall that celebrates the past as much as it clamors for more substance out of contemporary music. "Yellow Shoes," is a Dylanesque sing along by Jacques Mees, a fun piece of nonsense whose charm is in the nature of the sound—it gets you smiling for no reason whatsoever.
The album is consistently rewarding, with that unmistakable Humphries lilt that is life affirming. In fact, I'd say that this meditative song cycle is the absolute anthesis of "buzz kill," with a stark black and white design by Randall Cornish indicative of the peacefulness within. Tom Quinn's arpeggiated guitar is tasty in an Abbey Road sort of way, Mike Alvarez's cello is never less than lovely, and Grasekamp's organ and piano support the entire album in a regal manner. I only wish that Todd Sander's drums had a bit more presence in the mix—at the San Diego CD release party the band had an electrifying vibe that sounded ragged but exceptionally right, and it would perhaps serve the third outing of The Hollywood Project to employ a bit more dynamic range into the proceedings at the expense of sounding so precise. That said, I'm ready to take another joyride down Olympic Boulevard—it's the personification of California dreamin'.