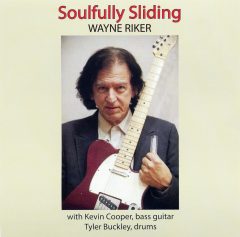 Slide guitars are seductive. The rough-edged sound of glass or metal in contact with a guitar string is both unworldly and oh so human. A good slide player can make his guitar sound like the utterances of aliens exiting from their mother ship or a blues singer growling in the depths of his despair over a wayward woman.
In the early part of the 20th century, Son House, Blind Willie Johnson, and other great black performers solidified the instrument's association with the blues, while Elmore James proved that a single lick performed on the slide guitar, albeit one performed very, very well, was all that you really needed.
Sol Hoopii demonstrated that slide guitar was capable of and deserving of virtuosity, and George Harrison elicited lightness and grace when he slipped a slide on his digit. The instrument reached an apotheosis of sorts in the seventies, when southern rockers sent slide playing into the stratosphere.
Since those days of the Allman Brothers and Elvin Bishop, it's been almost impossible to consider the slide guitar outside that of the blues or southern rock. Wayne Riker has changed that. With Soulfully Sliding, the San Diego Music Awards Lifetime Achievement honoree reminds us that the expressiveness of playing the guitar with a slide is suited for soul, funk, Gospel, swing, and other styles of music. Backed by Kevin Cooper on electric bass and Tyler Buckley on drums, Riker gives us six delightful selections of blues, fusion, and much more.
Riker long ago established his blues bona fides. If you're serious about playing blues guitar, his instructional books are required reading. But he is a talented performer of jazz and other genres. Those other capabilities inform his playing on this disk and expand what slide guitar is all about. I was particularly struck by the tune "Sizzlin'," which is funky and jazzy. If Donald Fagan played slide, this is what Steely Dan might have sounded like.
I have to confess: I might be wrong about this, but keep in mind I am a certified music critic, licensed by the American Society of Serious Knowledgeable Independent Critics (ASSKIC). It is my job to criticize. And get paid for it! So I need to voice my complaint with this recording. I just wish that it were longer. Eighteen minutes and 33 seconds was just not enough. I wound up wishing that Riker had taken the tunes around once or twice more.
Am I wrong? There is a lot to be said for a musician grabbing his guitar, having his say, and moving on. With only a trio and the only solo instrument being the slide guitar, maybe Riker was smart to leave us wanting more. Lord knows that we all have endured solos whose length could be measured in eons. Maybe this is part of Riker's smarts. I'd appreciate hearing what you think. If you're reading this on your computer, put your thoughts down below.
Though brief, Soulfully Sliding is a real joy to listen to. Particularly for you folks who like guitar and want to hear what a slide can accomplish outside of traditional blues, you should check out this new disk by Wayne Riker.