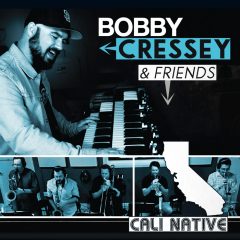 Organ master Bobby Cressey has assembled quite the debut album—featuring more than 20 players from the Southern California scene, including a myriad of rhythm sections and virtuosi soloists. Cressey has an undeniable flair for arranging dynamic and exciting horn charts and I found this album to be irrepressibly upbeat—primarily on the strength of those arrangements.
Right off the bat, "Master of Whispers" hits the listener square between the eyes with huge orchestrations made gloriously thick by the low-end churn of Adam Schroeder's baritone saxophone and the trombone of Andy Geib, clearing the flight deck for superlative solos from Gilbert Castellanos's trumpet, Paul Casteluzzo's guitar, and the leader's gritty, Jimmy Smith-like work on the Hammond B-3.
There is a party atmosphere that dominates this disc, where groove is the ultimate imperative. There isn't much jazz being produced these days that might inspire an audience to dance, but every single cut on the album will get your body moving, especially the explosive horn-driven "Climbing the Tower," an obvious nod to Tower of Power, which draws incisive statements from Castellanos, Cressey, and drummer Mike Holguin.
Cressey has an affinity for reggae music, and that feel pervades "Beyond the South Bay," opening up sterling opportunities for the tenor saxophone of Robert Dove and the blustery trombone of Geib, which in turn draw out an especially ebullient moment from the leader.
Imagine a blend of James Brown and Chick Corea and you have the basic formula for "Crawl Space," a terrific showcase for the burbling bari work of Schroeder (who seems to be the "secret weapon" of the ensemble), followed by insightful contributions from the guitar of D.J. Williams and Robert Dove's serpentine tenor.
Holguin and Charlie Chavez lay down a wicked Latin groove on "Cha Cha Guanaca," allowing Schroeder and Castellanos to shine, before Holguin's explosive timbale solo essentially steals the show.
There is powerful jazz-rock fusion on the aptly-titled "Muy Shredding," supported by bassist Kevin Freeby and drummer Tim "Figg" Newton and featuring the blistering guitar work of Jeff Snider alongside Cressey.
But my favorite tune is "Watermelon Samples," an ode to Herbie Hancock, ostensibly, but I could not help but think of Tom Scott's indelible horn arrangements on Steely Dan's iconic "Aja," album. That's high praise.