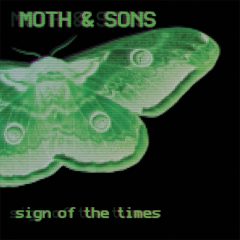 The electric guitar has always been kind of a "outsider" in modern jazz, and the notion of a jazz group that feature two guitarists is unusual, to say the least. There are, of course, exceptions—such as the pairing of Bill Frisell and John Scofield in Marc Johnson's Bass Desires; or the dual six-stringers in Paul Motian's Electric Bebop Band.
Moth & Sons is a (mostly) San Diego cooperative group that features saxophonist Ian Tordella, guitarists Jeff Miles and Joey Carano, bassist Harley Magsino, and drummer Charles Weller.
There are times when I get the feeling that many in the current jazz scene completely overlook the important developments of the 1970s, as if nothing existed between the electrification of Miles Davis and the emergence of Wynton Marsalis.
Happily, Moth & Sons ignores this trend. Their roots are in the loud and in-your-face fusion advancements posited by the Mahavishnu Orchestra and early Weather Report—yet somehow they manage to create music that sounds absolutely original.
The album begins with psychedelic overtures before exploding into the Jeff Miles' original "Vinmar," a stop-time freeboppish head with Tordella coursing through the changes in a slightly Joe Henderson fashion before handing the baton to Carano and Miles for show-stopping solos over the precise and appropriate drumming of Weller.
Many of Tordella's best tunes bear an anthem-like quality to them, and on the title tune, "Sign of the Times," his gift for compelling melodic development is admirable, and the blend of saxophone with wildly manipulated guitar tones seems completely organic.
Magino's backbeat-driven funk adventure "Things Are Sometimes Strange" extrapolates the theme from "Three Blind Mice," and spreads it like a virus into adjunctive neighborhoods, opening up for monstrous solos from Tordella and Miles. Both guitars swirl on the outro, and, I have to say, this album represents the best use of the dual-guitar concept that I can remember hearing. Even though this music would not be possible without the precedence of John McLaughlin and Bill Frisell, Miles and Carano extend that tradition in joyful and unexpected directions.
On Tordella's "Eye for an Eye," both guitars and saxophone solo at once, at times quoting from John Coltrane's "Compassion," (this material is also referenced later in the album even more explicitly in a Carano solo.) Neither guitarist exhibits the slightest aversion to "taking it out," or, on the other extreme, to assume a super melodic role, depending on the needs of the music.
The album closes with the Magsino medley "New Horizon/Juno," a 13-minute magnum opus where Tordella leans towards a very Jan Garbarek-like reverence for space in the former, and a rippling muscular exposition on the latter, his finest work on this very fine disc.