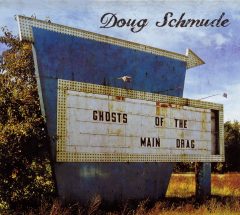 Orange County's Doug Schmude started out in New Orleans and the Midwest, then detoured to Nashville to work in an acoustic duo. Adding his name to the burgeoning Americana singer/songwriter roster, he has released four independent CDs since 2000, including his newest, Ghosts of the Main Drag. He's another of the artists that plays anything with strings, writes and sings all his own stuff, and produces his own albums of blended acoustic and electric material that pulls from various country, bluegrass, blues, and rock sources. Schmude's ten songs are mostly about small-town, blue collar people and their daily lives, and his primarily electric, mid-tempo rockers and gravelly voice fit the material perfectly; his album isn't gloss-country, hat-act fare, but has something to say.
The title tune opens, a lively introduction with Schmude lamenting the days of his youth when a weekend night in his one-horse town was a time for alcohol-fueled hell-raising. It's all here, including sixers from the all-night Texaco and climbing the water tower to see the sunrise, delivered with flair by sharp drums and guitar chops. The theme continues; "Small Town Eulogy" has fiddle riffing throughout, but it's a country rocker about how the Interstate destroyed his dad's home town: "from dust it came and to dust it went."
Schmude scores with lyrical insights on "Why's It Take a Funeral?," a disc highlight about family members crossing chasms of separation only when tragedy or loss strikes. To a churning rock guitar and organ hook, he poses probing questions about "How long has it been? The last time was the day we put Grandma in the ground." PTSD from foreign wars is the topic in "Rusty Dog Tags," which pounds away with growling, overdriven guitars as Schmude sings from the viewpoint of a parent of soldiers killed in distant sands, but not before being chased by demons both abroad and at home. "Bailing Wire" takes a break from a string of songs that tell a story, but Schmude uses the catchy rocker to deliver a string of metaphors about his heart made of iron; the songs here present him as a hard-edged blue-collar protagonist, who will "stand my ground 'cause nothing is done until it's done."
"Hazelton Road" is a pleasing change of pace, as Schmude plays dobro, and the fiddle gives the song a back country feel, perfect for a song about his youth and going fishing in overgrown creeks among dogwood trees. The song isn't completely acoustic, but it shows that Schmude has a facility in the genre; it would be good to hear more of this from him. The New Orleans native closes out with "Final Fais Do Do," and it is a barn burner, as one might expect from a rollicking dance song. Fiddle, vocal chorus, and Gospel lyrics all add up to another highlight as the musicians on hand clap and play for over five minutes, letting the spiritual lift of the song do its work. It is a grand finale for Doug Schmude's very solid and diverse Ghosts of the Main Drag.