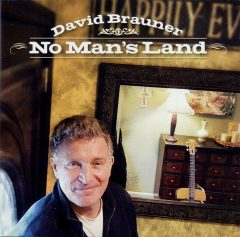 Since 2012, David Brauner has been a prolific contemporary Christian musician, with five full-length CD—including his new one, No Man's Land. He was a secular roots rocker in his younger days and after a couple of decades of inactivity got back into songwriting, this time with a devotional message. His recent albums, like Fountain of Love, contain songs that are both secular and spiritual—but those without direct religious references are about self-improvement and care for one another.
For the new album, Brauner sticks with his usual band, including producer/percussionist Sven-Erik Seaholm, guitarist Peter Bolland, Wolfgang Grasekamp on keys, with Paul Denton on bass and Ric Lee on drums. The music on the 15 tracks largely eschews folk; Brauner is a rock 'n' roller with a rough, raw vocal presence that fits well in a pocket of cranked guitars and drums. A great example is the title tune opener, Brauner finds himself in a place where he can't advance or move back, but where no one owns him, and he only answers to one voice—"Him I listen to." The hustling rock track, and Bolland's guitar work, sound like a Bob Seger blowout from the '70s, with a spiritual message.
"Rock of Ages" is a familiar topic for devotional music and here Brauner puts a sing-along-style lyric to an organ-dominated and repetitive, foot-pounding melody. Things quiet down a bit for "Carry the Load," as Brauner counsels those in spiritual need: "Now hold on, brother, there is some rest just up ahead/ Just a few more miles to go now, that's what He said." The melody, like on many of the other tunes here, is simple, but it gets the lesson across.
A couple of tunes in the middle of the program are secular, and are among the disc's highlights: "Lean In" has layered guitars and keys that create an almost E Street Band level of scale as Brauner sings encouragement to a woman who is at a life crossroads. Next, "No Doubt" also has a winning rock hook, nice slide work from Bolland, and lyrics that express Brauner's confidence in his lover: "I remember how much I love you/ Walking the dog, reading this blog/ My thoughts they drift to you." Brauner, in past albums, has written songs obviously meant for church group singing, and here his offering is "Heart of a Servant," with simple lyrics, a burn-in-the-brain melody, and the recording sounds almost like it was recorded in church.
God rock is truly thriving when Chuck Berry is the granddad of devotional tunes, and the proof is "Jesus 911," which is Brauner showing that both he and the Lord have a sense of humor. It's got a stomping beat hotter than "Great Balls of Fire" and the lyrics are about Brauner's battling his impulses when he sees the lovely woman at the end of the pew. "Now the preacher's on some righteous Bible verse/ My thoughts are drifting somewhere else/Jesus 911."
David Brauner's No Man's Land is more good Christian rock from a source that has shown a knack for the genre.