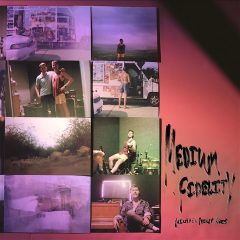 Michael Philip Reed is a young one-man-band, studio savant who has combined computer tech and musical talent to make his own unique brand of contemporary pop on his own terms. He plays all types and manners of guitars, keyboards, and percussion, and was one of the reasons for the razor-sharp sound on the early albums by local phenomena Steam Powered Giraffe—he played on and recorded their debut and is all over their MK III disc. Since 2014, he's been a virtual cottage industry of original music online, with nearly 50 Soundcloud recordings and a YouTube channel with dozens of uniformly imaginative downloads.
He has released a solo CD, Medium Fidelity 2015-17, recording and playing all the instruments on ten originals. His vocals are mostly upper register and falsetto, and he wisely blends in plenty of warm harmonies to beef them up; his instincts as an arranger are nearly flawless. "The Low Resistance" opens, a rare track for a disc with few obvious influences to clearly sound like early '80s Fleetwood Mac—if they had made better singles. This track is better than almost all of Tusk. Beautiful acoustic guitar chords usher in "Neon Blue," and Reed hits pay dirt again, with echoes of backing vocals and keyboard accents surrounding his lyrics, "Did we have a system?/ Did I ever listen?/ You know I blur my vision so well."
"Let's Pretend!" takes another path; it is a fun and funky piece of pop that shows both Reed's light side and his guitar chops, as keyboards and guitars make the feet tap—and the chorus, seriously, goes "whoo-whoo." It is a highlight on a disc with several. What makes "Favorite Side" stand out is minor chords, elegantly picked acoustics, laying out a framework for his vocal to jump in and sing about how "You were the favorite side of me," as banjos, guitars, and keys join in for some unison playing that evolves to take the song interesting places. Like others here, it sounds like it must have taken one musician months to conceive of, play, and record—pristinely.
After the marvelous "Brother of Mine," "The Problem" is the only track on the album that doesn't quite succeed.  With a lot of Pink Floyd DNA, and even a flashy guitar solo that sounds like Dave Gilmour is sitting in, it doesn't hold together as well as some of the other tracks; Reed's lyrics about the state of the world are almost overbearing. Some pop fans may be put off by guitar voice-box effects, but "The Wars We Have Won" uses them effectively to make a two-minute mini-anthem.
Reed starts "Faking Blind" with just his vocal and piano, but before long the sound is soaring into the stratosphere, synths join, choirs of backups vocals and strings, and the listener is carried off on a sonic voyage, that soon reveals a hypnotic hidden track's ethereal sonic carpet. Michael Philip Reed's new album is a success on all fronts, and a must-have for lovers of good pop.