A banjo bounty
How many banjo players can you name? If it's more than two and Dan Walsh is not on the list, you should add him.
Dan Walsh is poised to do for old-time banjo what Béla Fleck has done for bluegrass banjo: infuse it with influences drawn from classical and jazz to world music, create something new and exciting and uncategorizable, and achieve international stardom in the process. So far, Dan can check off the first two items and is on his way to the third. Listen to his new album Verging on the Perpendicular, and plan on seeing him in Poway on May 26 to hear what we're talking about.
Approaching his 30th birthday, Dan has an extensive resume. He recently played with Duane Eddy at the London Roundhouse and will take a break from British touring this summer to play at the Caslav Banjo Jamboree in the Czech Republic. He has toured Europe, North America, and New Zealand, and has made two musical pilgrimages to India. He also has a steady gig with the virtuosic Urban Folk Quartet and somehow makes time for a stable of banjo students.
Dan is making his second U.S. trip this spring, consisting of a whirlwind 10-stop California tour and a showing at the Michigan Midwest Banjo Camp. Besides banjo, Dan plays a very credible guitar and has a number of folk-tinged songs to his credit.
Dan counts Paul Simon, English neo-folksters Fairport Convention, Alison Krauss, and the Beatles among his musical influences. On the banjo side of things, he invokes Earl Scruggs and Ken Perlman, as well as Béla Fleck. Plus ethic music from around the world, including Ireland, India, Egypt, Scandinavia, and Eastern Europe.
The early years
Dan hails from Stafford, England, which according to Wikipedia is "approximately 16 miles north of Wolverhampton and 18 miles south of Stoke-on-Trent." (That's about two thirds of the way from London to Liverpool for those unfamiliar with Wolverhampton.) It is known for Stafford Castle, dating from 1090, and Stafford Prison, which houses mainly sex offenders. The list of notable people from Stafford is headed by the 17th century author of The Compleat Angler. Not prime banjo territory.
Dan has been consumed by music from an early age. He was taking classical guitar lessons by nine, while keeping his ears open to folk, blues, and rock music. At 13, he became intrigued by Celtic tunes, and particularly the banjo sounds appearing on some of those recordings. When his peers were begging their parents for the new Playstation console, Dan put in a request for a banjo. By happy accident, with neither him nor his parents recognizing that the Irish tenor banjo is a different instrument altogether, they bought the five-string banjo in stock at the local music store. The store was able to recommend a nearby top-notch clawhammer teacher, George Davies, the "best teacher I could ever have had."
Within a few years, Dan was gigging in local pubs. And not long afterward, he entered the Folk and Traditional Music program at the University of Newcastle. There he honed his skills, widened his horizons, and took advantage of their curriculum that emphasizes economic survival as well as performance skills.
Nowadays
Dan's current tour and album are in keeping with his general modus operandi. He plays about 150 gigs per year, mostly in England, but has been including more and more international travel. He has been putting out a new album every couple years, each one representing a milepost on his musical journey. Since 2014, he has been a member of the Urban Folk Quartet, which has its own touring and recording schedule. He somehow squeezes in teaching, practice, and composing.
Dan has gotten a lot of support along the way. For eight years, until April 2017, he was sponsored by Live Music Now, a non-profit founded by Yehudi Menuhin, which sends young musicians to play for folks that otherwise couldn't experience live music, as in nursing homes or special-needs classrooms. The British Council sent him on a 2013 cultural exchange program to India to work with South Asian musicians. "We basically had to put a gig together in two weeks and I got such a kick out of jamming and writing with the Asian musicians. I'd dabbled in trying to get a sitar-like sound out of the banjo but to put it into practice in that context was a real thrill and inspired me a lot. I was very nervous, too, as I played a raga on stage in India to Indians and that was my first experience of gigging abroad!"
Dan describes the English folk music scene. "There are lots of festivals and folk clubs and they're all run by people who do it for the sheer love of it. The festivals are very popular and there's a hell of a lot more young musicians than there were, which is great, but a lot of the clubs are not quite so busy and are run by many of the folks who created them back in the '60s and '70s. Really, the bottom line is it would be so much harder for folk orientated musicians in the UK to make a living without the network."
Dan has been playing Deering banjos since he was 19 and is one of their featured artists, preferring their Sierra model. He accompanied Deering on a goodwill trip to India in 2016 and visits the factory when he comes through San Diego.
His 2017 US tour is his second. The first, in 2015, was somewhat abbreviated by a series of bureaucratic fumbles, but his paperwork is in place early this time. He's got 10 shows lined up over as many days, with ours being his only SoCal appearance.
Verging on the Perpendicular
Old joke: How can you tell one banjo song from another?  A. By their names.
Differentiation among tunes is not a problem on Dan's just-released album, despite the instrumentation being almost completely solo banjo. Of the 11 songs, five have Dan's very capable, very English vocals, with a little harmony here and there.
Four of the vocal songs are originals, their themes largely drawn from Dan's traveling lifestyle. "Want What You Don't Have" is an uptempo ballad that would not be out of place on a Donovan album. "Leave This Land" is Dan's ode to New Zealand, done up in full bluegrass glory. "Out of Here" has a bluesy swing, one of two tunes with light percussion. In "Going to the USA" Dan plays a fine country blues guitar à la "Alice's Restaurant" in support of his wry recap of his first US tour.
How much danger can a guy with just a banjo bring to the people of the USA?
U.S. let me in
I only want to play some songs, I'm not into guns or bombs
U.S. let me in
I won't be earning much hard dosh, then I'm straight back home for a cup of splosh
As you see, besides sporting a West Midlands accent, Dan is not afraid to include Brit-slang in his work, as in his life. ("Dosh" is obvious from context; "splosh" is tea with milk, we learn if we skip the first two rude definitions in the Urban Dictionary.)
The six instrumentals likewise cover a wide swath and are mostly original; two of the three medleys feature traditional tunes including polkas(!) and reels. "The Vaults" flows effortlessly up and down the neck, where Dan shows his virtuosity without showing off. "Chase Suite" is slow and melodic. Then there's "Funky Haystack," which displays about as much funk as you can imagine coming from a banjo; in fact, the tone, rhythm, and sliding chords could well be coming from an extra-funky electric guitar. And if that's not enough genre-bending, Dan gives us a medley in the time signature of 7/8, which is not something we expect from a "traditional" instrument.
In summary, this album is a stunning and unique example of how diverse influences, diligent effort, and a large dose of creative flair can paint an old instrument in new colors.
See it and believe it
You may never again get the chance to see and hear such banjo virtuosity in such an intimate setting as when Dan Walsh plays Templar's Hall this month. Up-and-coming resonator guitar picker Lady Rogo opens this San Diego Folk Heritage show.
*******************************************
ABOUT THAT BANJO…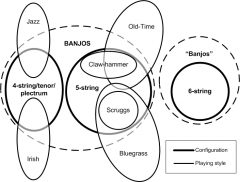 The banjo is essentially defined by the fact that its strings vibrate against a round "head," very similar to a drum head. It's this head that gives the banjo its unique tone, which is sharper but less sustained than a guitar. After that, things get a little complicated…
The first way to classify banjos is by the number of strings. The four-string, or tenor, banjo is favored by ragtime and Irish players. The six-string banjo is essentially a guitar with a banjo head instead of a wood body. But it is the five-string that usually comes to mind when we hear the word "banjo." Think "Dueling Banjos" or practically every bluegrass song ever recorded.
The unique element of the five-string banjo is its high drone string. The ability to pluck this open string at any time gives banjo its bounce, and encourages syncopation. There are many styles of playing the five-string banjo, but for simplicity consider two categories with uncountable variations. Note that neither category involves the use of a flat pick (or plectrum).
The first style group is three-finger picking, comparable to guitar fingerpicking, where the thumb plucks strings in a downward direction, and the fingers pluck strings in an upward direction. Thumb- and finger-picks are often used. Bluegrass uses a variation of this style, named after Earl Scruggs.
The second style group is called "frailing" of "clawhammer." Here, the thumb keeps up its downward stroke, concentrating on the high drone string, but other notes and chords are played by brushing the back of a fingernail downward across the strings. Single-note melody, rhythmic accompaniment, and syncopation can be achieved by mixing these strokes.
Most banjos are fretted, so the left hand plays similarly to a guitar. Banjos are often tuned to an open G chord, but many alternatives are used, and banjoists tend to be more open (sorry!) to working with other tunings than most guitarists.
Dan Walsh/Lady Rogo opens. Friday, May 26, 7:30pm, at Templar's Hall, Old Poway Park, 14134 Midland Rd., Poway. Go to sdfolkheritage.org for detailed information.