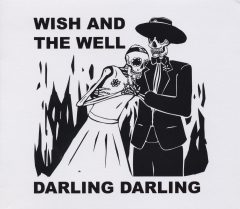 Hailing from Oceanside, Wish and the Well are a band built upon the remnants of the unrecorded Jefferson and Washington—namely guitar/keyboardist Corey Leal and guitar/keyboardist Dillon Casey, both playing Leal's original Americana songs. Other members include Steven Crowle on guitars, Trevor Mulvey on bass, and drummer Cheyne Dolly. Since coming together in 2015, the group has been hitting the club circuit in North County and elsewhere, while recording a debut CD, Darling Darling.
The band at times sounds like part of a burgeoning North County roots rock movement typified by Carlsbad's Trouble in the Wind, with a singer/songwriter front man and a mixed acoustic/electric band cranking out hybrids of country, Gospel, pop, and rock 'n' roll. The nine originals seem to bear the personal stamp of Leal's first-person, often dark, introspective lyrics but the songs vary in temperament from rockabilly to soft folk.
"Where I Belong" is a straight up mid-tempo pop tune that introduces Leal and the band, with layered guitars, keyboards, and a hammering drum line delivering the message about how he has learned lessons from his experiences and is ready to move forward. Up next, "Ain't That Something" makes more of an impact, as an urgent rhythm pushes home his message: "I've got no other plan/I want to be your man." The title song backs off the throttle, as Leal asks a lover what went wrong with their relationship, and nails the song with a harmony chorus about one day "sharing a ring." The song is about rescuing a love from heartbreak, and the (rare for this disc) positive outcome, and superb pedal steel work by Casey help make it a mellow disc highlight.
A different rhythm paces the minor-mode, bluesy "When Judgment Comes" as Leal reaches into the Gospel drawer for some metaphors, while Hammond organ and blues guitar interchanges are heard above the fray while he sings: "Little darling dressed in white/You will guide my hand into the light." Leal doubles down on these sentiments with "Everything Will Be Alright," sung a cappella, a poem about how the "tidal wave will come to destroy this town," yet "there will always be a light." The theme seems to hold for "Let it Burn," a stutter-stepping blues rock that grinds away as Leal further ponders the dark side.
Leal's outlook lifts a bit for "Orange Grove" but not enough to change the chorus from "It's a sign of the times that we all shall fall." It rides a nice groove, as he laments the degree that life has been relinquished to things that have been built by machines. "Empty Vessel" is a soft, slow, and folk-inspired song to wrap matters, a sort of Leal confessional that conveys yearning for fulfillment. A sharp arrangement captures the moment and feeling just right, with sighing pedal steel accompanying the memories he lays down.
Wish and the Well's Darling Darling is an auspicious debut by a promising new North County roots band.