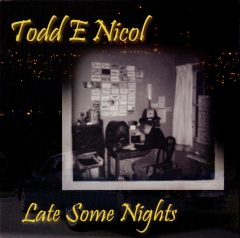 Todd E Nicol is a local singer/songwriter whose new CD is Late Some Nights. Nicol has been playing local haunts like Java Joes, and he has released a previous album of his original country-inspired folk tunes, The Big Spill. While that disc was very uneven, the bare-bones recording of observational and personal songs had an interesting rough-hewn edge, while pushing many of the same buttons from track to track. The best song, "The Tunnel Down," was sung by guest vocalist Juancice Charmaine.
Nicol's new one is another 12-tune batch of originals, but benefits considerably from the involvement of veteran local guitarist Don Strandberg, who not only helped engineer the new disc but also provides guitar, slide, bass, tambourine, and backup vocals. Nicol's songs rarely follow typical country or blues/folk chord patterns, and can meander as his lyrics and tenor take a free-form approach; Strandberg's efforts make it all hang together while adding bottom and musical interest.
The songs are personal, like the opener and title tune about his deceased mother; like several other songs here there is a sort of stream of consciousness on the verses, as he remembers the border radio of his childhood. On "Donna's Eyes" Nicol's fondness for hanging onto a note for a couple of measures (or more) is well established: "My attention fades away/ I only see Donna's eyes."
"Hey, Me" follows "Eyes" with a similar feel and sound but is set apart by harmony choruses that make the introspective lyrics pay off. Nicol goes after a storyboard on "Not Just Sayin'," about the drought. It is relevant for the times, well arranged, addressing the plight of farmers whose livelihood is threatened by crop failure: "The corn don't grow/ Till the rain comes." "Caroline" is a soft folk song that Nicol just misses nailing as a catchy melody, like on many of his
songs there is a contorted melody line that finally resolves in a pleasing, smooth chorus.
"Dignity" is the one spot on the disc where the beat picks up a bit, and Nicol takes the spot to talk about some of society's many flaws; it's a short piece that concludes: "Is it really true what's out there/ Or is it only me that sees/ I think I'd rather just stay at home/ Have my dignity." Nicol's tribute to the fallen victim of police violence in Ferguson is "That's How It Is," making observations about a young teen who "laughed a lot" only to end up "in a pool of blood/ Because that's how it is."
The disc wraps with "Remnants and Memories," a song very typical of Nicol and the sound here. It is deliberate, wistful, and personal—here about a departed father-with long sustains on the vocals, which by the end of Late Some Nights is certainly a Nicol trademark.