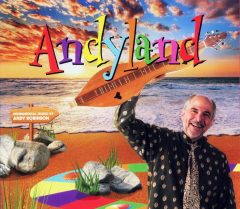 Andy Robinson has been part of the local scene for decades (he was in Horsefeathers, whose lead singer was in this writer's high school class 50 years ago; his other bands have included Different World, Questionaires, and the Andy Robinson Band). He is a veteran of just about all styles of music with a discography that includes work with folk/pop vocals and instrumentals that focus on his dulcimer, exotic keyboard, Kalimba, and experimental percussion sounds.
Andyland is his newest, and this time Robinson is clearly trying to cross boundaries with the 15 tracks that mix New Age, avant garde, and genres that probably don't have names. The self-produced originals flash his skill on numerous instruments, including those above and Native American flute, guitar, stylophone, and others. The studio crew also includes some other top local musicians.
"My West Coast" introduces the listener with a sitar-like drone (Robinson on a Variax-equipped guitar), overlaid with a lively dulcimer/guitar melody that soon becomes a wall of sound; it is impressive and dynamic. Churning percussion paves the way for "It's Midnight–Do You Know Where Your Shadow Is?" as dark tones on bass dulcimer are matched by a melody laid down by Robinson on Native American flute–it reverberates with tribal energy. The strong opening sequence continues with "Gravel Dance," which is built upon a very accessible acoustic guitar/dulcimer figure given a dance rhythm by tuba bass lines.
"Rainy" uses the interplay of dulcimer and pianet (Doug Robinson) to convey a light, almost whimsical flavor. Perhaps the best tune is "Nowhere to Nowhere," on which all of the various exotic parts combine to make the most complete whole; the Native American Flute is joined by fiddle (Dennis Caplinger) and baritone electric guitar (Jim Soldi) as well as trumpet and keys. It blends world music and fusion elements, again with Robinson's outstanding percussion catching the ear. Not everything catches fire, as there are several songs that are basically fragments–probably intended to convey mood changes; three of these fade after 40 seconds or less. Two tracks, "Where Am I?" and "Take My Picture" are built largely on found sounds in the studio and a group singalong.
"Out of the Swamp" conveys raindrops and, with the flute and dulcimer, brews up an air of mystery. Robinson continues to show the amazing sounds he is able to make on unusual instruments on "Junkmobile," a disc highlight that he recorded entirely with dulcimers, Stylophone, keys, and percussion–and that sounds like monster guitars battling racks of electronic keys in a layered edifice of churning sound. It is thick, bristling, and imaginative. Yet another flavor is heard on "Escape from Andyland" as harmonica is in the foreground, combining with Kalimba and dulcimer for an unusual hook that takes to the air once it gets going.
Andyland is fascinating music that transcends categories; Andy Robinson's new album isn't background music, and it takes instrumental trips to unexpected locations.