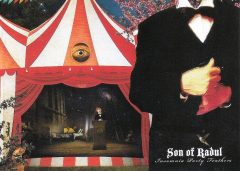 Marcelo Radulovich is a Carlsbad experimental musician who has been active since the '90s as a solo act, and in collaborations with other electronica and avant-garde music artists. He has released music in both English and Spanish, though with his music the overall sound takes precedent over any lyrical message, for the most part. The multi-instrumentalist/producer has worked with Mike Keneally and participated in local bands Playground Slap and Me Me Moth; he also produces many videos  and has a substantial YouTube presence.
His latest is under the name Son of Radul, called Insomnia Party Feathers. For listeners not accustomed to avant-garde sounds, it will take several listens to absorb. Radulovich generates the music using various instruments, sounding like non-instruments, electronics, samples, and studio trickery to blend together a sonic soup. A keyboard will lay down some notes for a while, a bass line may join, then over a hypnotic beat a female voice will recite some Spanish lyric, maybe to the accompaniment of a guitar lick. The initial impression of a somewhat unfocused musical abstract painting becomes much sharper with a couple of spins-but never too overly structured.
"IPM-127/Love" opens and establishes that this is experimental music, as organ statements in one channel greet electronic key and echoed guitar and lap steel in the other, with a spacey vibe that will repeat elsewhere–Radulovich is about mood and tone–and the tune has a coda that plays two vocalists mouthing "love" into the channels while humming for 60 seconds for good measure. More of a connection is made by "Grinches," one of a couple of tracks that for whatever reason, despite plenty of electronics, have the same dreamy, detached catchiness as some of the slow tracks by pre-Darkside of the Moon Pink Floyd. Similar, and even more striking are "The Infantry is Coming" and "Circles Be Walking," which seem to be part of a suite–separated by electronic whistling noise–that taken as a whole is the highlight here, it grabs the ear right through a satisfying sax solo in the second tune.
Much of the remainder of the disc's vocals are in Spanish, starting with "Chiya," which has a very good hook, with Radulovich succeeding in making a guitar sound like a wah-wah saxophone for some catchy accents. For the title tune, it is a slowed-down funk exercise that gets an unintelligible vocal overlay, with plenty of really soaring electronic effects. "Leave It Alone" is unusual, even for a disc of unusual music, it starts with two fingerpicked guitars then eventually brings in reverse-tape loops and harmonies. "Palomitas Y Mezcal" sounds like a John Cage piece with Radulovich using various unconventional items for percussion and bass effects. The closer is "Donde Nada," which is a smooth, pleasantly executed piece of Latin jazz, with nice sax work, and save for some electronic percussion effects, not even that out there.
The roots listener with a taste for experimental music will find Marcelo Radulovich's Insomnia Party Feathers to be interesting and provocative.