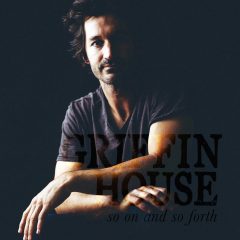 Maybe not since the Ohio Players, Slave and Zapp were making Dayton a veritable "Detroit south" of epic '70s and '80s power funk has southern Ohio been such a hub of top-flight pop music.
While Cincinnati-based Dawg Yawp's debut sits atop many critic's "best of 2016" lists, Springfield, Ohio's Griffin House is back with his sixth full-length album, So On and So Forth (out March 4)–which ought to cement him among the top rank of the contemporary folk-rock scene.
As did Jackson Browne a couple of generations ago, House has an uncanny knack for melding salt-of-the-earth poetic imagery with fat, radio-friendly melodies, creating music that can appeal to casual fans and hipsters alike.
The opening track, "Yesterday Lies," has an instant hook that reels you right in, like an old Poco or Eagles song–acoustic guitar and piano laying out a hypnotic theme, while House's warm vocals float atop, tasty electric guitar licks filling in between verses, and a female chorus echoing him. Forty years ago, this is all over Casey Kasem–it's that good.
The first featured song from the album is the uptempo "Paris Calling," which already has a video out on YouTube. It's got a nice piano-based arrangement–which, combined with House's relaxed singing style, evokes threads of Billy Joel and Bruce Hornsby, with a touch of late-Beatles' Paul McCartney.
Which isn't to imply that House is anything other than his own man. We're all products of our influences, after all. House brings his own sensibilities to songwriting and singing as illustrated by the lyrics to the bridge on "Paris Calling":
Tennessee dreaming of the City of Lights
Oh to feel the magic of a Paris night
Just to walk on the streets
It's such a sweet sensation
On "Further," an introspective bit of countrified folk, he's more in a Guy Clark/Tom Russell/Townes Van Zandt vein:
Groundhog Day is a worn-out cliché
as I can't find a trace of me
I see my face in the same old place
But I'm nothing like I used to be
He jacks the energy up on the rocking "Easy Come Easy Go," breaking out of the mellow folkster groove and keeps up that rocking approach on "A Painting by Hieronymous Bosch."
The rest of the songs are equally strong–and other listeners might find other tracks to be superior to those mentioned above. There truly isn't a weak entry here, and the performances are standout across the board.
Griffin House performs at the Soda Bar on February 11.