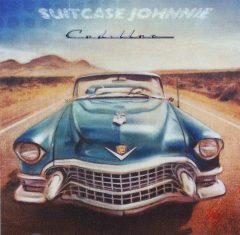 Cadillac by Suitcase Johnnie, is a R&B roots-soaked romp from the opener, Eddie Harris' song "Believe That I'll Go Home" to the final track, "Washington Hotel," by producer and instrumentalist Dennis Roger Reed. It is a fast-paced, original and good-time musical journey. Front man Marty "Cadillac" McPhee sings his heart out even as he's laying down some fine blues harmonica.
There is a sound in these sessions that is reminiscent of the Band during their Basement Tapes days. But, Suitcase Johnnie also walks close to the fire once lit by Ronnie Hawkins. It's close enough to make this home-spun and warm album entertaining, light-hearted and filled just some damn-fine music.
The ultimate test of the original material, when a group of musicians combine cover interpretations with original songs, is how well the songs blend together well as a whole. The news is good. it is hard to tell the difference between the original songs and the covers on Cadillac.
The sound leans heavy on a strong back beat and boogie-woogie guitar and piano, with occasional lapses into bluegrass, which pays off as each song is realized to its fullest potential.
The song, "Crazy About a Cadillac," is an acoustic-based Piedmont-style original by Dennis Roger Reed. With guitars blended in with mandolin and a good-time harmonica and an easy-riding vocal by McPhee, the song is downright infectious, as is the majority of this album.
A stand-out original song presents the audience with what may be the only time they'll ever hear an R&B song about a Flemish-Baroque artist from the 17th Century by the name of Sir Peter Paul Rubens. But, in the hands of Dennis Roger Reed, who provides one of two lead vocals on this song, even the Counter-Reformation gains a strong sense of boogie between the lines of its paintings. The song "Funky Poultry" yields a fine electric guitar solo with a acoustic lead guitar duet. The song is reminiscent of early Little Feat.
The cover songs are carefully selected lesser-known tunes by icons like Sam Philips, the Grateful Dead, and John Phillips. "Don't Ease Me In" does the Grateful Dead song justice, while Herman Parker and Sam Phillips' "Move to Kansas" rocks with a slow bump-and-grind crawl. But, it's John Phillips' "Me and My Uncle" that allows multi-instrumentalist, Dan Reed to cut loose with intricate and joyful bluegrass mandolin solos.
As the album concludes with a duet by McPhee and Reed on the original song, "Washington Hotel," there is a feeling of having spent an afternoon throwing back a few beers with old friends on a front porch overlooking the coastal sea. It makes you wish the afternoon would never end. And it makes you want to play this record over and over again.