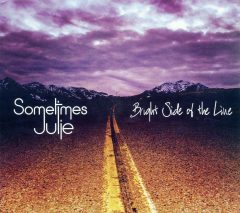 Bright Side of the Line, Sometimes Julie's new six-pack EP track, scores big. Blending Indie-rock, Louisiana-style blues, and Americana country with rich melodies and powerful vocals, the singing-songwriting duo of Monica Sorensen and Rick Walker knock the band's second CD out of the ball park. Sorensen, a self-described poet "looking for a new outlet for her words," commands an ethereal venue for prose that cuts deep. Walker accompanies Sorensen's stories of loss, faith, heartache, conviction, resolve, and grace under pressure with strong riffs, driving rhythms, and pulsating harmonies. Bright Side of the Line is to be listened to on repeat. Once heard, it does nothing but tantalize the imagination. Poets in search of meaning must investigate the genesis of Sorensen's lyrics. Sorrow and triumph are themes for a reason.
The album's title track, "Bright Side of the Line," ranks as my favorite. The catchy, sing-along rock ballad bellows anguish while sporting a scar slashed so deep, there is no other side. Agony is never in doubt for those who have loved and lost so tragically. Time is devoted to "bleeding, pleading, drowning, and screaming," to "find my way back/back to the bright side of the line."
While "Standing My Own Ground" promises to let go, Emily, noted to be written in light of the American poet, Emily Dickinson, taps into the often misunderstood genius of the poetic masters. Introverted and eccentric, Dickinson never married, rarely entertained guests, had a penchant for white clothing, and used death and immortality as poetic themes. Sorensen's haunts with her words. "Even as she says she's never seen the face of God/she says she's always known his seasons/claims she's got a ticket for a front row seat in heaven." Brilliant. Pure poetic brilliance. Emily Dickinson would be proud.
"Sanctuary," the CD's ballad invites the wounded to "Let me be your quiet/I will be your sanctuary." "Another World" rocks the ideal of escape to "Another world where no one can find me/turn me on be my guide/I'll leave it all behind me." Both toe-tapping songs are meaty and gritty.
"When the Sun Ain't Shining," the CD's final country-laden, catchy track oozes of true unrequited love. Touting passion, purpose, safety and warmth, lovers embrace "Everywhere they are/it's the right place to be/when the sun ain't shining." Sometimes Julie fans–love conquers all.
Bright Side of the Line features Monica Sorenson on vocals; Rick Walker on guitar, keyboards, percussion and backup vocals; Bruce Paul Allen on bass; Fred Barden on guitars; Andy Graham on drums; Rick Lorenzini on the organ; Andy Machin on guitars, keyboard, backup vocals; Margaret McClure on backup vocals; and Anthony Sarain on the saxophone and flute. All songs are written by Monica Sorensen, Rick Walker, and Andy Machin. Bright Side of the Line was recorded at Bigrock Studios in Escondido.
Head First, the band's debut CD garnered an Akademia Music Award for best Americana music video.