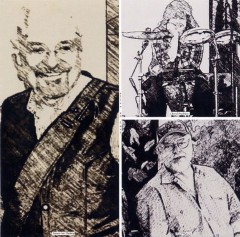 Alive at Last is the new disc from James Lee Stanley. A prolific singer/songwriter who has been recording and releasing music (on his own and partnering with others) since the early '70s, Stanley plays acoustic Americana that jump genres (jazz, funk, folk, blues, pop-rock) while retaining his unique view of the world. His live shows include endearing between-song banter and anecdotes, and his material often is either reflective and personal, or laced with messages about the messy state of today's political reality.
The new disc differs from most of his excellent studio albums: this time it is Philadelphia native Stanley playing live before a live, hometown studio audience, accompanied by Cheryl Prashker (percussion) and Chad Watson (bass). The 23 beautifully recorded tracks benefit from this added rhythm section, which adds another dimension to Stanley's acoustic guitar, capturing a live Stanley gig, banter and all, amazingly well.
"Going Back to Memphis" gets the show off to a rousing start, a great tune about returning to roots, and with the hand drums and bouncing bass line punching the beat, it locks the listener in, giving a glimpse of Stanley's funk ability. After a funny gag about one of his exes, another side emerges in "Worry About You," a softer portrait of a romantic partnership's ups and downs, featuring some intricate guitar expressions by Stanley.
The first of several covers is an exotic approach on Michael Smith's "Three Monkeys," a disc highlight that conveys mystery and foreboding. "It's so hot here the black sand smokes like coal/ Sun barbecues your body fries your soul." The jazzy tune about dangerous realities in the third world is beautifully realized. Another cover that jumps out of the speakers is "Drive My Car," a breezy reworking of the Beatles' tune that will burn itself into the listener's head.
After a humorous lead-in to a song that takes a stab at the Koch brothers, "Easy to See," Stanley nails a highly personal folk song, "All I Ever Wanted," with a lovely melody that conveys the challenges and rewards of love: "Without you, I'd lose my way." The protest songs are not over, though, as "The Street Where Mercy Died" chronicles the Katrina disaster and pulls no punches: "And smirking, the appointed one/ Does photo ops under the sun/ While sisters wail and brothers cry…That flood that came like none before/ Can be traced back to that White House door."
"Here We Are" is another highlight, an up-tempo ballad about togetherness with jazz genes that floats to another level, with the catchiest hook here. Changing things up again, Stanley launches right into another protest piece about the religious alt-right, "Do It in His Name," certainly a legitimate target for some social commentary. Late in the show, "Racing the Moon" offers a different-sounding tune about personal experiences growing up as a wild teen, a memory frozen in time.
Fans of James Lee Stanley will love Alive at Last; it is essential listening for all fans of good Americana.