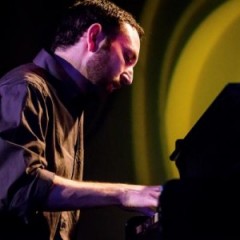 As Danny Green talks about his music, the first thing to come up is Wagner. The jazz pianist waxes on about the German composer's use of thematic devices and leitmotifs. He ticks off the Wagner operas he's enjoyed, sometimes traveling to Los Angeles to catch a production of Lohengrin or Tristan und Isolde. He even enthuses over his memories of seeing the Ring Cycle, Wagner's endurance test of operas that can span three or four days.
Green then brings up his current love for Fiona Apple. "I can't stop listening to her," he confesses. And just as much as he gushed over Wagner, Green speaks of his esteem for the popular singer. He likes the jazz influence in her songwriting. "And I like how she incorporates instruments like woodwinds and strings into her songs. I admire how any singer, more so than other musicians, lets you into their soul."
Like his performances, which can be filled with melodic and thematic surprises, talking to Danny Green about his music can be filled with twists and turns and surprises. Not only is he enthralled with Wagner and Fiona Apple, a conversation with him can include the subjects of Mahler, Ravel, Debussy, Brahms, and then veer into the topic of Brazilian music.
Going back a good ten years, longer actually, Danny Green has been delighting audiences with his solid compositions and inspired and agile musicianship. He has won praise from a number of publications, including the San Diego Union Tribune and Downbeat, the granddaddy and standard-bearer of the jazz world. The Danny Green Trio, which includes bassist Justin Grinnell and drummer Julien Cantelm, has, in the last year, released two compact disks, once again to great acclaim. "We're getting great reviews," says Green. "WNPR gave us a really good review, and we got reviewed in Downbeat."
The latest disk, Altered Narratives, was recorded in New York at Sear Sound, where luminaries such as David Bowie and Joe Henderson have laid down tracks; it includes three compositions that feature a string quartet performing with the trio. "Writing for strings, including them with the trio, is something that I've been wanting to do for a while, and it's something that a few colleagues have been pushing me to do, pushing me in that direction.
"Writing for strings gives me more layers to play with as opposed to writing for the trio. I try my best to use strings in a way that adds something new and worthwhile to the compositions. One thing that I love about playing with the strings is that I can sometimes get away from playing the melody and instead take on more of an accompanying role. In a way, this adds some more freedom to my playing."
As a composer, Green admits that it's "whatever comes out." He says, "I find an idea and then just work out where it goes from there." Occasionally he composes in the moment. Such was the case with "The Merge," the second selection on the Danny Green Trio's Altered Narratives CD. "I was doing a duo gig and just started playing the tune. It just came to me as I played."
Though Green is in his mid- to late-thirties, he retains a boyish youthfulness. The father of two sports a slight, well-trimmed beard and has short curly brown hair. Even in the middle of the day, his brown eyes can look sleepy.
Though he does not come from a musical family, music was a large part of Green's upbringing. "My dad played violin and performed in a string quartet. It was not a professional quartet, only a hobby for my father," he says. Both of his parents only listened to classical music, so as a child Green was not exposed to the popular music that other children heard pouring out of their parents' CD players and radios. "I wasn't even exposed to the Beatles. All that came later for me," he says.
Green took piano lessons and studied classical music. "But I didn't like classical music when I was a kid," he says. "I couldn't find anything about it that appealed to me. A lot of it I just couldn't follow. I remember I played Mozart and Shubert, but at the time it didn't really have anything for me. At 12 I quit taking lessons."
Rock 'n' roll finally made its way to the Green household when Danny discovered Nirvana. The Seattle-based band was everything to the young Green. He would often go to bed and go to sleep with one of the grunge icon's CDs playing. He didn't have a guitar, so he listened to the recordings and played "Floyd the Barber," "Smells Like Teen Spirit," and the rest of the tunes by Kurt Cobain and crew on the piano.
While he was in University City High School, Green got turned on to ska, the Caribbean music with the infectious beat and appealing horn parts. He says, "I was into the new stuff and the old stuff, the original bands like the Skatalites and the Two Tone stuff, too." The bits of improvisation and the horn solos appealed to Green. "And it was more than just music, when I got into ska, it was nice to be part of a scene."
So when you're part of a music scene, you either have to follow a band or join one. Green and his friends started a ska band. For the first time Green tried his hand at composing, writing tunes for the ensemble. The band played two gigs, performing for a show in Old Town and a "Battle of the Bands" competition in Orange County. Green remembers that they finished toward the back of the pack, but not last, so all was not lost.
By the time Green was a senior in high school, his friend, a drummer, wound up living next door to Rob Thorsen. Thorsen is one of San Diego's premier jazz musicians. He is also a music educator and has been a mentor to many an up-and-coming musician. Within a short amount of time, Green and his friend were exposed to some of the best musicians in San Diego, such as Holly Hofmann and Gilbert Castellanos. Green fell under the spell of jazz and became a regular at Dizzy's, the Summerhouse Inn, and Castellanos's jam sessions.
As involved as Green was with music, you might be surprised to learn that his first major when he entered UCSD was not music. "I was a chemistry major," he says. "Chemistry was something I was good at, and it seemed like something I could make a career out of." Like his father, he looked upon music as a worthwhile hobby and something that was not necessarily a wise choice when it came to paying the bills. Even after he changed his major to music, Green thought that he may not be a performer but an academic, perhaps an ethnomusicologist or other type of researcher.
But performing held sway for Green. "Performing is a way for me to share my passion," he says. "It's an awesome feeling to share my music. It's always a positive uplifting experience. It's challenging, and a great rush at its best."
While at UCSD, Green discovered the Buena Vista Social Club. He'd listen and play along, to the Cuban big band, lifting all those frantic riffs and lines of Ruben Gonzales. He started catching onto more jazz and Brazilian music. He says, "By the time I started college, I had a real open mind when it came to music. And I started to check out all kinds of different music." He seriously checked out the fieriest of Latin American pianists such as Chucho Valdez, the Dominican Michel Camilo, and Danilo Perez from Panama.
Among his teachers and mentors, Green takes note of two who were particularly helpful to him. "Kamau Kenyatta was a mentor to me. He's very encouraging and he helps musicians find their own voice," Green says of the UCSD music professor, multi-instrumentalist, and Grammy winner. "He's very good at listening to what you're doing. He really helped me explore music that was new to me. He introduced me to Wayne Shorter and helped me find out more about Brazilian music. He taught me to play dynamically, and he's not into how fast you can play.
"He is good at helping young musicians. And he was just as instructive when it came to being in the business of making music. He convinced me that someone could make a career out of music. He looked out for work for me."
San Diego State's professor of music and associate director of jazz studies, Rick Helzer, also receives praise from Green. "He has such high expectations for his students," he says. "He gives them a lot to work on. He's very methodical in his teaching and gives his students building blocks, one after another, each advancing on the other. He taught me so much about harmony and voicings, and he taught me the use of chromatic notes."
Besides performing, Green teaches as well. He has a number of private students that fill his schedule and he is the music director for two jazz ensembles at the Coronado School of the Arts.
Green is on the road this month for two mini tours. The first comprises three dates in Portland, Seattle, and Tacoma, and the second has shows in San Jose, Auberry, Oakland, and San Francisco.