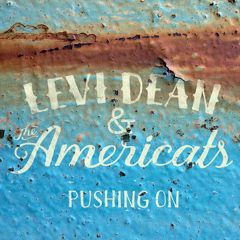 Levi Dean is from Virginia and got his musical start with a band called Dean Stanton. That band toured nationally and released several discs, including Quarter of a Century in 2009. The Americana singer-songwriter's next stop was Nashville, then in 2014 he moved to San Diego. His current band is Levi Dean and the Americats, and their new album is Pushing On.
The Americats are Dean on guitar, lead vocals, mandolin, and piano; Pat Harp on harmonica and backing vocals; K. C. Kruger on bass; Jordan Carlisle on lead guitar; and Luis Cely on drums. The sound on the new album is deliberately low-fi, the production has a live-in-the-studio vibe. First, mention should be made of the limitations of this approach: the 15 songs (several too many) all feature identical instrumentation and similar arrangements. The result: familiar and repetitive acoustic strums with Harp's wall-to-wall blues harp fills on tune after tune, and a lack of dynamics or style shifts. The muddy mix obscures the rhythm section nearly entirely on almost all tracks. Okay, limitations covered.
People will enjoy this disc based on the music itself, not how it is presented. There is filler, but there are strong tracks as well—plenty of them. The opener, "When She Gets Mad," introduces the band's sound on a bluesy shuffle that plays to their strengths—tight harmonies, nice mandolin fills, and ragged energy. "Big Box Sunrise" is even better and manages to be catchy and quirky about the predicament of being drunk and in pain in a parking lot, "I need a home to lick my wounds." Dean hits some high harmonies that click on "Earth Day Wedding," which also gives him one of many chances to flash some more mandolin expertise.
"I Know You" manages to score as a catchy country ballad that observes, "I know who you are/ When we remove the outer layers we are all the same." Dean's lyrics are straightforward but effective throughout; ; on the pleasant "Wellspring Mama" he observes, "When I am tired and weak, I know where to find/ A drink of the sweetest water there is around."
One of the disc's highlights is "Run," which changes gears just enough to break a streak of sameness in the other songs, a hook that slows down through the chorus and harmonies work well and overcomes a mishmash instrumental arrangement. The best tracks are buried in the program as the best song here is "Warm in the Womb," which works a Neil Young stumble-beat rhythm into a fully realized, memorable country ballad with a nice hook that is a both different from and a cut above most of the other material here. The strong late disc songs aren't over as "Man on a Mission" is 13 tracks in, and stands out for its use, unheard elsewhere, of jazz-inspired chords and scales; it's not a jazz song but just using a diminished chord here and an augmented there are enough to give it a catchy edge.
Pushing On is interesting music, that especially with repeated listens will prove rewarding to roots fans. Available through iTunes or cdbaby.