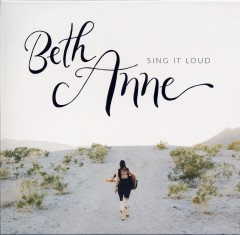 Sing It Loud introduces Beth Anne to the local acoustic scene. Until 2014, she was part of a successful roots quartet in Northern California, called the Railflowers. That group's run in Chico included three album releases. The singer/songwriter's specialty seems to be bare-bones folk with spiritually inspired lyrics. The new disc includes five originals, with Anne's acoustic guitar and sharp harmonies accompanied only by bass and percussion by producer Nathan Scott.
The first two tracks, "Glory Be" and the title song, wear their spirituality on their sleeves. The former celebrates a lifetime of following the Almighty with joyous results, expressed with high, floating harmonies. The title tune expresses a desire to be a part of a huge choir, transcending the humdrum noise of the world.
The most interesting track is "The Beast," which has a minor chord structure and interesting time signature. It grabs the ear while Anne turns the focus of the lyrics inward, talking of things she sees in herself; it is nearly five-and-a-half minutes long but seems half that, and shows a side of her unheard elsewhere. The introspective songs continue with "Not Wild, Not Tame," addressed to a love interest to advise that "I'm not wild but I'm not tame/ And I have walked the winding path lying somewhere in between." Anne wraps with a very different approach-the a cappella song "Wild Mountain Flower," that is a clear salute to Irish folk traditions.
Beth Anne's Sing It Loud is a solid solo debut that folk lovers should enjoy.