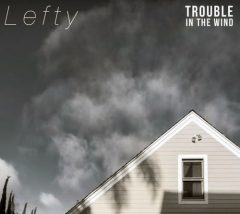 Carlsbad's Trouble in the Wind are alternative rock veterans with two 2014 full-length CD releases, bringing their total to four full albums. Their new release, Lefty, introduces 13 new songs and new member Keith Haman on guitar and pedal steel. This is a band that has thrived on inventiveness and a tendency to avoid being pigeonholed, and like its previous releases, this one features all originals written by singer/songwriter Robby Gira.
Through the process of recording multiple projects, the band has refined their sound, which originally was an odd mixture of roots and new wave influences; early discs had tunes that sounded variously like Johnny Cash and David Bowie. Two things have been constants—Gira's vocals have had power, though not always subtlety, and the sonics have been limited to what the guys could capture in their home-studio attic. This turns out to be a good way to capture their particular sound, and they are getting better at it with each attempt (the new disc was recorded live). The band retains guitar/accordion/keyboard player Kyle Merritt, double bass player Trevor Mulvey, and drummer Larry Doran, and the new disc has more straight rock moments and country twang than most of Trouble's previous efforts.
"Pumpkin Pie" opens with TIW trademarks—ragged guitars and a blasting Gira vocal hot in the middle, then pumps up matters with more guitars and punchy piano for a satisfying, Stones-ish rocker, "I kissed her once just to try it out/ But the second time really knocked me out." Gira makes his presence felt, the band wraps itself around him. They ease back on "No Good," and the depth that Haman adds on pedal steel is apparent on this mid-tempo country shuffle-and elsewhere on the album, as well as nice vocal support on the chorus by Luren Gira—it's a side we haven't heard from TIW.
"Let Me Get Down" works a particularly catchy hook and smoothly floats, with lilting lead guitar and pedal steel beneath a very good Gira vocal for a disc highlight that does not sound like it was home recorded in an attic. The rock boots are back on for "Roy," with Gira in his element as the axe men trade solos. On "Fire Away" Gira is singing to a potential lover about wanting "To love you strong, like a Cowboy Junkies song." Hell, yeah, and again the live arrangement clicks.
Another standout is "Drawn to You," the one track that recalls some of the band's earlier efforts along the David Bowie vein. With a choppy guitar riff, hypnotic hook, and some of the melodrama that his better tunes had; it is a strong, radio-ready track. The roots departure continues with another catchy offering, "Indian Summer." Taking some cues from U2 and Radiohead, the smoothly soaring, layered guitars dissolve into individual statements in each speaker that take this song to a place way beyond anything Trouble in the Wind has recorded before this. And another reason why Lefty is must-have music for fans of alternative rock.