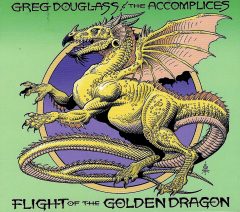 Unless you were just a twinkle in your daddy's eye in the summer of '77, chances are you found yourself rockin' out to one of the biggest hits of that year. In 1977, the Steve Miller Band was one of the hottest acts on Top 40 radio with "Jungle Love." Co-written with the group's bassist Lonnie Turner, guitarist Greg Douglass helped propel "Jungle Love" into the stratosphere, thanks to the latter's trademark, killer guitar licks, which surged their glorious way through the proverbial veins of that rollicking ode to humanity's primal lusts and behavior.
Now, nearly four decades after the release of the monster smash that dominated the airwaves in '77, Douglass is showing some love again with the release of Flight of the Golden Dragon. A 12-track bonanza, the album is a testament to the power of Douglass' craft as a songwriter and guitar gunslinger. Of course, the rogue warrior got by with a little help from his musical posse—the Accomplices—which includes songwriting partner-vocalist Michael Muldoon, bassist James East, drummer Larry Grano, and special guests Karen Trapane and Wild Rose, both who provide vocal support on a few of the tracks. Mike Kamoo, who worked in tandem with Douglass, as the album's producer, pulled out all the stops to deliver the goods, and more, on Flight of the Golden Dragon.
On the hard-hitting opener, "Scream," Muldoon growls his way on through as Douglass moves in for the kill with his adrenaline-pumping strokes. At the end, the vocalist throws all inhibitions to the wind and lets it rip with a vicious roar that would give Guns 'n' Roses front man Axl Rose a run for his money. When the mayhem segues into "Forbidden Love," a confessional response to one man's desire for the inamorata of his heart, the listener realizes that this album generates more than the physical law of attraction.
"Shake Some Action" gets the star reboot from Douglass, who reenergizes the song first made famous by the Flamin' Groovies. His voice is perfectly suited for this slice of power-pop manna, which graced an era fashioned in pointy-toed boots, Beatles haircuts, and Byrds-inspired, jangly guitar hooks. He elicits another round of applause on the acoustic chestnut, "Ocean Hill," which shimmers in the shadows and illumination of its instrumental divinity.
"A Fine Line" is awash in a palette of noir fantasies and allusions, alluding to the notion that, in life and love, "sometimes, you win/sometimes, you lose." In "Voices," Muldoon's vocals sound as if they had marinated in the still waters prescribed by Bob Dylan and Tom Waits, with John Mellencamp tethered to their sides. When "Walks of Life" struts on by, the rocker bows at the altar of Keith Richards. Of course, this number could only precede Douglass' reverential rendition of the Jagger-Richards composition, "Wild Horses, which surrounds itself in the afterglow of the master's deft touch and expertise.
The self-titled "Flight of the Golden Dragon" soars and eventually lands at the feet of Douglass, where he promises us the next journey out will be even more magnificent and rockin'…