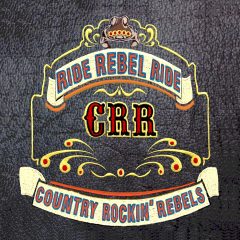 What the Country Rockin' Rebels have in mind is a multiple CD "cycle," and the last entry was 2011's full-length, self-titled disc. The guys are back with a new album, Ride Rebel Ride, and it is more Bakersfield-influenced hammer-down rock and ear-catching country ballads. This is a road tested, two-gun guitar band that punches all the honky-tonk buttons, while sneaking a Southern rock feel into much of its material.
The front man is vocalist Tristan Luhrs, who writes the songs with cofounder/ guitarist/backing vocalist Michael Head. The other guitar is slide player Mark Eppler, with Tony Sandoval on bass and Steve Tahmahkera on drums as the rhythm section. The band is given extra country octane by Ted Stern's fiddle, banjo, and pedal steel. Head's production brings out the band's strengths on ten tracks—edgy swagger, raw six-string energy, with moments of reflection.
"Too Rock for Country" kicks thing into gear, a mission statement that grinds out some 12-bar rock with no apologies or hesitation. The band knows that much of its appeal comes from pushing the accelerator, and the tradeoffs between Head, Eppler, and Stern give this one added oomph. They ratchet down for "Marie," a mid-tempo country tune with Luhrs telling a lover, "I never gave 'cause my heart didn't believe/ But now I'm wearing my heart on my sleeve." It has a great-sounding instrumental bridge in the middle with all the guitars and fiddle joining in unison that lifts the tune a notch.
The single is "Stomp" and the title pretty much says it all; it's ready for radio with a hard-blues guitar riff and wailing harp. "We call this country rock and roll," is the lyric, and a sharp solo by Stern late in this foot-pounder surprises. The band throttles back for a leisurely ballad that floats on layered guitars, banjo, pedal steel, and a deadly catchy hook for the title tune. This is the disc highlight, as Luhrs seems to be singing the tale of a former hell-raiser, now content to hang up his colors and watch the world, and a lover he might have missed. Though under four minutes, it is a fully realized piece of music, with some subtle elegance.
There is also a wistful tone to "All I Wanna Do," as Luhrs leans back and sizes things up to a lover over an acoustic backdrop, "There's a kid up on the stage/ He's makin' all this money/ He's half my age." The mood here again is one of backing off the gas in life's second half, "The radio it don't know my name/ So that probably means you'd say the same." The disc closes with the hard-pounding "Indian Wind," another charging blues-rocker that takes some of its cues from "Stomp" and plows right through some clever lyrics and sharp guitar tradeoffs-a great way to close the show.
The Country Rockin' Rebels have targeted the honky-tonk country with hot guitars genre and scored a bullseye with Ride Rebel Ride. Fans of both rock and alt-country will find much here to enjoy.