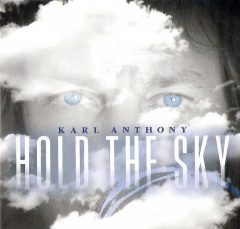 While Karl Anthony is not a famous name performer, he has a fascinating bio. Associated with the Center for Spiritual Living, he has traveled all over the world, taking him on multiple tours of Russia (he played for Gorbachev) and India, to China, and all of the States performing service-directed and devotional music. Along the way, he has recorded several CDs of music; his website cites two million listeners at his shows, and he has a compilation CD based on his first 20 years of recording. The singer/songwriter knows what he is doing.
Anthony has a new CD, Hold the Sky, and he wisely turned to Dave Blackburn (Robin Adler and the Mutts of the Planet) of Fallbrook's Beat 'n Track Recording studio to produce. The 11 Anthony originals are superbly realized glimpses of folk and pop, with even some Gospel-inspired R&B moments. It is light, devotional music, delivering life lessons and focusing on positives, served with such an earnest vocal focal point and musical variety that the message never gets stale.
The title tune is one of a few that might work in a congregation, as a hymn. The simple hook has Anthony out front of a group of backing singers on the choruses that suggest a church full of faithful, singing about remaining steadfast in times of trial. The mellow, low-key start continues with the folksy "I Believe," which features a good vocal by Anthony: "I believe in good times, drinking only good wine/ Sure I have regrets, with the time I have left/ I'd rather just believe." Simple, but effective.
"Pura Vida" jumps out of the box, as reggae-ska chop, harp, horns, and full band celebrate taking all day to do nothing, except celebrate life and simple pleasures. While this probably isn't Anthony's natural voice and groove, he is clearly having fun and it is a good pace change. The detour from devotional folk isn't over, as "Let the Past Go-Go" takes the listener to an R&B club for four minutes with call-and-response backing singers, near-disco string echoes, and bass/keyboard hooks that all click surprising well… wait, this is a New Age roots CD, right? Yeah, but little side trips downtown like this (thanks to Blackburn) keep things interesting.
Anthony gets back into personal and spiritual in a big way with the best devotional song here, the disc highlight "Hope (Here I Am)." It is a smooth folk song that tells of personal appraisal and evaluation, to a very catchy melody. "I have hope, in the brilliance of this moment/ I have hope, in the wonder of my love." Another high point is "I Am Who I Am," which uses a bluesy hook to deliver the word about staying true to yourself. A sharp, overdriven guitar solo helps drive it home. The closer on the album is no filler cut, as "On My Way" finds Anthony saying goodbye, with an infectious pop melody behind him, harp and slide guitar dominating. It is a good trip and a good listen.