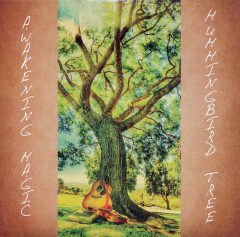 Awakening Magic has a CD out called Hummingbird Tree. It's part of a much bigger plan, and all of it is centered on Justin Werner, a local roots multi-instrumentalist (Spaceshag, The Western Collective, and 3rd Borough) as well as a solo singer/songwriter. The ambitious undertaking plans four albums, and Werner plays all of the instruments, and wrote and performed all of the music.
This group of Americana tunes features Werner's acoustic guitar, harp work, and confident vocals, by turns introspective and quirky, drawing from folk, alt country, and even Gospel sources. Sometimes when an acoustic player decides to go with 14 original tracks, play everything, and turn most of the knobs, there is a chance for some track-to-track sameness, but Werner's experience performing with bands playing music as varied as hip hop and bluegrass helps make this an interesting, mixed platter. His production and arrangements are clean and uncluttered with nice harmonies and no wasted spaces.
"Morning Light" kicks things off with a taste of the music to follow, slick acoustic picking by Werner sung over by harmonized verses about a quiet moment with a special lover: "I fade into love cradled by the sun, staring at the blue sky, wishing on a cloud/ I wake to the morning light, you're the first thought that runs through my mind." Nicely played lattices of guitar notes punctuate the soft, personal folk song. His bluegrass background comes out on "Meet You in the Wind" and "Chariot," which both have Gospel bloodlines and aren't that far removed from traditional "O Brother, Where Art Thou?" territory. The former nearly samples old-style hymns, imploring Saints Mary and Peter, while the latter has fancy finger-picking and banjo work laying down a hook, as Werner sings about seeing a chariot in the distance coming to the saved singer to his reward.
"Angels of the Dawn" is a ballad using a simple arrangement of guitar strum and lots of backing vocal harmonies. "Million Blue Skies" is another quirky love tune: "I know I met you in another lifetime/ Or maybe somewhere out in dreamtime/ Would be the way we've done a billion miles." Throughout, his lyrics are strong and supplement the tunes with ideas rather than just filling in the melody line.
The title tune is a highlight, with a country-blues guitar riff that is catchy and different. It is slow and almost plods, but somehow grabs the ear for its full length. Late in the program are some tracks that are among the best on the disc: "Milk Weed Serenade" is a sharply played and sung tale about returning home, with some lovely descending guitar figures and harmonies. While it soars, "Mystical Miracle" is a stark, minor-mode folk tune with a foreboding feel that connects just as strongly. "Echo in the Land" is a catchy Gospel anthem and is another strong track.
Hummingbird Tree impressively captures Justin Werner's writing and performing ability across many acoustic forms, a great listen.