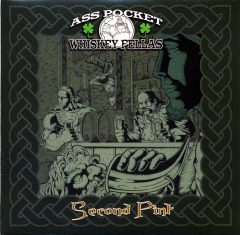 Move over rock 'n' roll! The Ass Pocket Whiskey Fellas have landed in complete foot-stompin', clog hoppin', thigh slappin' regalia. Sporting an eclectic collection of instruments, the eight-piece band unveils (finally) album number two, called Second Pint. Fusing the genres of traditional—old fashioned even—Irish folk music with classic country, bluegrass, ragtime, and rock 'n' roll, the "Fellas" as they are affectionately nicknamed, prove that all good things come to those who wait. The gritty, bluesy, and sometimes gravelly compilation of songs blend the guitar, banjo, cajon, mandolin, tin whistle, fiddle, accordion, upright bass, harmonica and percussion instruments with some serious, ass-kickin' vocals. One can even hear the roar of a Harley on the track "Max Cackle."
Self-described as an "acoustic gaggle of Southern California hooligans," this enclave has mastered mixing the art of Irish music with down-home, American southern rock. The love of "sprits" remains a prevalent theme throughout its 10 tracks, labeling songs such as "Bury Me in Whiskey," "Guyanese Gold," and "Whiskey Flux." Weaving the Travelling Wilbury's, Southern Cross, and classical Broadway musicals with an array of Irish music, the Fellas sing happy, fun songs. Whether it's a hoedown, show down or, square dancing evening, the Ass Pockets offer lighthearted cheer. It's no surprise that the Fellas are infamous for their live performances, no doubt filled with square dancers, cloggers, and Irish jiggers!
But within the art of the Broadway masquerade, the Fellas don't disappoint. Dullahan serves as the perfect backdrop to sitting in an Irish bar enjoying a warm beer while MT3 boasts a melody so pretty, so out of the norm from the rest of the album, one needs to check whether Pink Floyd's Dark Side of the Moon fell on the track. And leaving nothing to chance, why not end the Second Pint album with the varoom of a motor cycle.
The Ass Pocket Whiskey Fellas were formed in 2011 by San Diego band veterans Laux, Hoshko, and Davis. Second Pint features Jack Laux on guitar, accordion, and vocals; George "Ground" Davis on mandolin and vocals; Steve "Stive" Hoshko on upright bass and vocals; Larry "Body Heat" Kosta Jr. on banjo and backup vocals; Philippe "Chin Hai" Freed on harmonica, tin whistle, and vocals; Leo "The General" Stafford on the cajon and tambourine; Justin Davis on guitar, megaphone, and backup vocals; and Floyd Fronius on fiddle. Guest vocalists include Dale Peters, Cindy Helt, and Kirk O'Brien. Second Pint was recorded at Body Heat Sound in Clairemont.