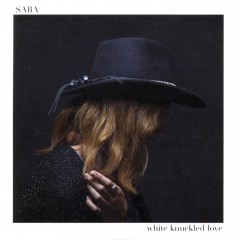 Saba burst onto the San Diego music scene as a singer/songwriter in 2002. Determined to launch a career based on the integrity of her music, the solo artist founded Spinster Records in 2003. Earning nominations from the San Diego Music Awards in 2004 and 2005, Saba and Spinster Records continue to capture well-deserved accolades. White Knuckled Love, Saba's seventh album, highlights what fans already know—a voice that transcends the norm—while featuring the backdrop of a full band, including a violin and cello. The ensemble electrifies as Saba articulates ownership of her new direction, "My Rules, My Way." Co-produced with Ben Moore at Singing Serpent Studios, White Knuckled Love heralds triumph within the realm of heartache, heartbreak, betrayal and unrequited love. In laymen's terms, mess with this chick and you lose.
Touting a voice that vacillates between a raspy Melissa Etheridge and an operatic Sheryl Crowe, Saba and her acoustic guitar clearly define the consequences of duplicity in the album's first track, "Good and Gone." "Shut my eyes and pushed away the doubt until I couldn't shut the feeling down," she sings. "You thought that I would break from all you did. But I don't get taken down and I don't look back." The band and its chorus leave not one iota of second chance wiggle room. "I don't feel bad for you now that you're running around with your tail between your knees."
"Vultures," a catchy track number two, encourages weaving independence through betrayal among friends. While others spin the truth, one must fight to stand strong on the platform of honor.
"Madly," the albums shortest track, is a perky, folky, rocky rendition of an old theme, "Hit the road Jack and don't you come back no more, no more." Saba is clear, "We've come undone. I wonder what it was that I loved so madly. Now I see you, see right through you and it's over."
I will own "Don't You Worry About Me," as my album favorite. Piano and keyboards escort the violin and cello as Saba and backup vocalist Evan Bethany mesmerize listeners to experience, once again, the loss of love. Remembering the one that got away is too simple. Haunted by the relationship that became the barometer to measure all future lover's better suits the words: "The years have passed like a flashing light; was a fool to think that you were ever mine."
"White Knuckled Love," co-written with Andrew Mauldin, completes the album in a soul-searching, melodious, heartfelt song about letting go. "White Knuckled Love is not a love at all. If you need a way out I won't stop you. Go on and find yourself now." Enough said.
White Knuckled Love features Saba on vocals and acoustic guitar, Jake Najor on drums, Ben Moore on keyboards, Celeste Spina on Drums, Lindsay Matheson on Electric Guitar, Jason Begin on Electric Guitar Rick Nash on Bass, Rick Wilkins on Electric Guitar, Erdis Maxhelaku on Cello, Anicka S on Violin, Brett Wagner on Piano, Evan Bethany as back-up vocals   Mastered by Roger Seibel (SAE Mastering). All songs written by Saba. "White Knuckled Love" is written by Saba and Andrew Mauldin.