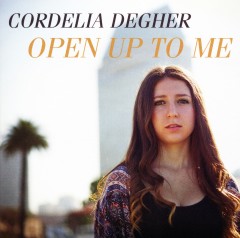 Open Up to Me is the debut EP by Cordelia Degher, a sampler of music by the 15-year-old daughter of Darius and sister of Cleopatra, who both have released CDs since fall 2014. Cordelia wrote three songs and co-wrote the fourth with dad, who produced with Jeff Berkley. Though ace musician Darius isn't part of the backing studio crew, no worries-the players on hand frame Cordelia's emerging voice well.
The music is pleasant pop; the title tune opens matters with a good hook, a relationship song that Cordelia digs into, buttressed by background harmonies on choruses. On "I Recycle," it is her farewell to suitors with some snappy lyrics (by Darius) about exchanging old boyfriends for new—the words are interesting but the melody doesn't really catch fire.
Maybe the most ambitious effort is "Crumbing Tower," an adult-themed heartbreak ballad built on keyboards with buildups-the message is "How is it the end/ When we never did begin?" The song works well, especially given that Cordelia is still developing a low end on her voice. "Rewind" might be asking too much of the 15-year old's pipes, though. The last track here has an interesting hook and might be the best written of her original tracks; the verses, though, have warbling vocal acrobatics that aren't her strength, diverting from the song's impact despite a solid effort.
At an age when many musicians are barely learning the basics, Cordelia Degher's debut shows that she is already well on her way.