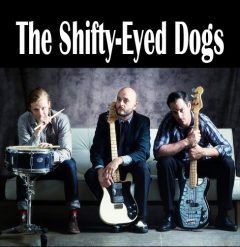 Every Monday evening, Scott Mathiasen can be found perched behind his drum kit at the On The Rocks Bar, situated in a strip mall between a laundromat and liquor store on E Street in Chula Vista. As bandleader for the quartet, Mojo Working, his powerful voice and rapid fire medleys of swing and rockabilly classics keep devoted swing dancers gliding across the dimly lit dance floor all night long.
Few, however, may not know of Mathiasen's alter ego as the guitarist and lead singer of the Shifty-Eyed Dogs, a trio, featuring Peter Knochel on bass and Isaac White on drums. Their self-titled disc on Blindspot Records, is their debut effort, a seven-track gem of pure soul and infectious R&B grooves, all penned by Mathiasen, and produced, recorded, mixed, and mastered by Scottie Blinn at his Grease Punk Studio in San Diego.
The San Diego trio establishes their soulful persona on the opening track, "Out the Door," a sizzling groove in the spirit of Junior Walker's "Shotgun." Immediately evident is Mathiasen's outstanding soulful vocal chops, which are hands down the highlight throughout. Blindspot co-founder Bart Mendoza echoes that assessment, "He's a terrific musician with a heck of a voice."
The real sleeper throughout all the tracks is the addition of keys man Ted Sherer, tempering the overall raw trio based sound. His tasteful electric piano chops on minor key rockers, "Borrowed Time" and "Hard Case," complement perfectly Mathiasen's whiskey-soaked vocals. Sherer's funky organ patterns on "Heartbreaker," along with Mathiasen's dynamic vocal, reminds one of classic Sons of Champlin, while Mathiasen channels Gene Vincent in doo wop fashion on "Keep Myself from Crying."
Not to be overlooked is the solid in-the-pocket grooves from the rhythm section, with Knochel and White never straying from the signature R&B bass lines and drum patterns respectively. The same can be said for Mathiasen's guitar solos, all searing pentatonic-based riffs with just the right reverb edge to define the band's unique brand of raw soul.
The band tears it up on "She Said" with a groove straight out of the 1960s dance club scene, in the spirit of Parliament, Wilson Pickett ,and the Chambers Brothers. Mathiasen's lyrics are well crafted and poignant, particularly on the closing track, "6 Feet Down," a sultry Delta Blues-tinged composition, a perfect cool-down track to tie a bow around this successful project, recently nominated for Best Blues Album in the 2015 San Diego Music Awards.
Upon completion of the finished product, Blinn summed it up well about Mathiasen's talent and potential: "Scott Mathiasen is a killer songwriter, singer, guitarist, and performer; he has a huge career in front of him. He is the voice of a new generation of blues."