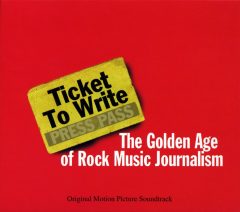 One sentence in the liner notes adequately depicts the audio flavor of this nostalgic release: "This 19-song soundtrack CD recreates the sounds of the '60s and '70s, exploring early hard rock, garage, folk, glam, punk, metal, pop, and country-rock." This original motion picture soundtrack coincides with a 90-minute documentary, Ticket to Write: The Golden Age of Rock Music Journalism, chronicling the years 1966-1981, when pop culture magazines—Crawdaddy, Rolling Stone, Creem, and Circus, to name a few—featured prolific, outspoken writers including Lester Bangs, Richard Meltzer, Dave Marsh, Jean Uhelszki, and Dave DiMartino as mouthpieces for a counterculture generation hungry for in-depth happenings about their music heroes.
All 19 tracks are original songs performed by a veteran cast of local San Diego artists, recreating the iconic against-the-grain musical vibe of the 1960s and '70s, including contributions from a number of then and now familiar faces around all corners of San Diego County.
Raul Sandelin, an El Cajon native and teacher at Grossmont College, produced and directed the documentary in addition to performing with his group, the Flying Sandolini, on eight of the tracks. Most of his compositions fit the bill in reviving the common melodic themes of the day, from the droning psychedelic grooves of the title track and "Marengo Drive," to the cliche repetitive chord patterns in the '60s-flavored rockers "Lions to Slaughter," "I Don't Want You Here No More," and "Complicated Girl," not to be outdone by the raw punk power chord riffs in "Punk Jesus" and "Cowpunk Proposal."
Local journalist and musician, Jon Kanis, also a co-producer on the project, ushers in the acoustic side of things with "The Past Is Not Made to Last" and "Dweller on the Threshold," with superb lyrical metaphors hankering back to the days of Tim Buckley and Bob Dylan. His satirical rocker "Empire" evokes the spirit of David Bowie with some Elton John musings. Local music icon Skid Roper's tune, "Skid Drive," shifts the mood with a barrage of echo-filled hot licks in his clever instrumental arrangement that would make Duane Eddy proud.
Jack Gimble, a cousin of country fiddle great Johnny Gimble, covers the '70s-flavored pop period with his 12-string guitar and voice on his tunes "Parsonstown" and "Roadie." Not to be overlooked are co-producer Jack Butler in tandem with Jerry Raney's (of Beat Farmers fame) superb guitar work and driving arrangements on "Flipper," "Hovering," "Semi-Sweet Marie," and "Unshackled and Pissed," employing the band moniker from their high school days, Thee Dark Ages, ironically a group that Bangs, a once-San Diego County resident, would sit in on harmonica. Most all of the tracks on the CD were recorded, mixed, and mastered by Butler at his home studio, all top quality mixes.
Executive producer, Edward Turner, can be proud of the teamwork on this worthy score that accurately represents the eclectic pool of counterculture music from this golden era of rock music. CDs available on cdbaby by the end of the month.