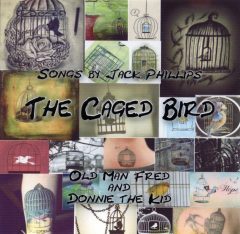 The Caged Bird is the new CD by Fred and the Kid and is more of the same. The strengths of the disc are the authentic biographical drama in the storyboards of the ballads, the fit into the tradition of outlaw country in the California flatlands, Strandberg's tasteful virtuosity, and Fred's vocals, which lack range or polish but have the rough-hewn edge that is perfect for the first-person country songs from a prison cell. The disc has a limitation as well, related to its 15 tracks probably being too long, returning to wistful, minor chord ballads a few times too many.
Opening with "The Caged Bird Sings," it takes no time for the music here to work in a metaphor about imprisonment, "He's singing free and easy like he knows he'll never be." "Calle Del Consuelo" is the first of several dark-toned slow-tempo ballads; Fred's vocal conveys the sense of foreboding well and there is a superb slide guitar solo by Strandberg. The mood lifts a bit for "Good Dreams, Bad Realities," which is a toe-tapping shuffle recalling Merle Haggard sagas about a life gone wrong, dreaming about being on the road and realizing that "tough guys come a dime a dozen in our petty world."
"When I Hit the Bricks" is given a major arrangement, and stands out. It adds bass, fiddle, and slide guitar that sounds like pedal steel, and harp. It's catchy and sounds (nearly) like a Bakersfield-style country single by a full band. One of the several songs directly about prison experiences, "Life Without Parole," clicks, which is about a veteran inmate, now a lifer for being in a fight that killed another convict. "The More I See" is a country waltz, a personal and calm assessment of a life that concludes with "the more that I live the less that I care if I die." It is a highlight disguised as a filler track. "Shayna and Rain" is a story about the downfall: stolen car, coke, gun under the seat, all headed for the eventual reckoning and unavoidable bust—the quick, steep drop from two girls on a lap to ten years in a cage. This tale is related with lots of slide flourish by Strandberg, to good effect. "The Soundtrack of My Life" is Jack's thanks to a litany of country saints from Merle to Waylon, Johnny, Willie, and of course Hank for the part they played in his musical life. It's a good way to end a record that focuses on a hard man, doing hard time with this music as his companion.